"Pilot" is the first episode of Season One of Superstore, and the first episode of the show overall.
Summary
Jonah's first day on the job does not go smoothly, Bo proposes marriage to Cheyenne, Mateo competes with Jonah.
Plot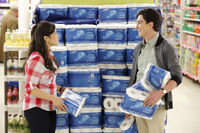 At the Cloud 9 Store 1217, a superstore in St. Louis, Missouri, floor supervisor Amy Dubanowski is selling a knock-off engagement ring to Bo Derek Thompson not knowing he is the boyfriend of fellow employee Cheyenne Lee who is pregnant with his child. She tells store manager Glenn Sturgis she's taking a break. Jonah Simms is being interviewed by assistant manager Dina Fox who is attracted to him and asks several personal questions. Jonah is hired and runs to help a customer who he thinks has knocked down a toilet paper display. He's somewhat high-handed with the customer and it's not until Cheyenne asks the customer for a break that Jonah realizes he's talking to fellow employee Amy.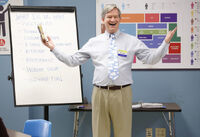 At his first staff meeting in the Break Room, Jonah further offends Amy. Glenn asks new employees Mateo Liwanag and Jonah to introduce themselves. Mateo is a gregarious, high-achiever and sees Jonah as a rival. Glenn wants to end the meeting by reading from the Bible but Dina has reported him to corporate and he isn't allowed. They argue and then Glenn welcomes them to Cloud 9. (♫ Theme from Jurassic Park ♫) Jonah gets work advice from wheel-chair bound Garrett McNeill and finds that Amy is the floor supervisor. Jonah tries to apologize for his earlier behaviour but ends up offending Amy further. He also finds that she doesn't wear name tags with her real name which she won't tell him.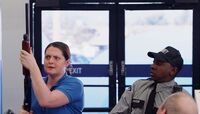 To get Jonah out of her hair, she gets him to re-price electronic items. Amy sees Bo proposing to Cheyenne and stops her before she can reply. Amy asks Cheyenne to think it over before she replies. An unattended baby jumps in a playpen. (♫ a-ha - Take on Me ♫) Jonah is re-pricing the items and waves at Amy down the aisle. Dina is behind Amy and thinks Jonah is waving at her. Amy notices many customers grabbing electronics and rushing to the check-out. Jonah has re-priced the items to 25¢. Amy rushes to shut the store down and chaos ensues. Customers rush the exit until Dina blocks their way and shoots a shotgun into the ceiling.
Another staff meeting is held to review what happened and Jonah mouths an apology to Amy who smiles back. Dina overhears Jonah asking Garrett if employees can date supervisors and smiles thinking Jonah means her. Later, Amy tells Jonah he should concentrate on not messing up instead of having fun. He believes in looking for beauty in the everyday and throws a plastic bag in the air in front of Brett. She walks away not impressed. Two customers smash their carts together. (♫ En Vogue - Free Your Mind ♫) Dina has Cheyenne put eyeliner on her anticipating a date with Jonah. Mateo tries to ingratiate himself to Amy and tattles that Jonah is goofing off in the parking lot. Jonah, Garrett and Glenn are canoeing shopping carts (Glenn wins) until Amy pushes Jonah's cart into a car. (♫ Ludacris - Move Bitch ♫)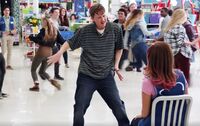 An unattended child is using a potty. (♫ Nick Glider - Hot Child in the City ♫) Amy brings Jonah a peace offering and explains while she is holding a box of glow stars that she's serious at work because every day and every year is the same. It's closing time when a masked, armed robber bursts in and yells for everyone to get down on the ground. He rips off his ski-mask - it's Bo performs a flash mob marriage proposal for Cheyenne. (♫ Jason Derulo - Marry Me ♫) Dina has already crawled away to the Surveillance Room and reported a code green to the police. After advertising himself, Bo kneels and asks Cheyenne to marry him. Dina believes that the hostage is about to be shot, and turns off the store lights to create confusion. The ceiling is covered with glow stars put up by Jonah. Everyone stares up in awe. Jonah has created a moment of beauty and Amy smiles. (♫ Bassnectar - You & Me ♫)
In the parking lot while the police deal with Bo, Cheyenne tells everyone that she accepted Bo's proposal. Dina tells Jonah he was never in any real danger and describes what she would have done if the robbery had been real. (Shot Bo if he came <10 feet of Jonah.) Cheyenne hugs Jonah and says that if he hadn't put up the stars she might not have accepted. Amy leaves and Jonah catches up to her and explains he just wanted this day to be different for her. She says thanks and tells him her name. Jonah leaves with Garrett to horrify garbage collectors by placing manequin limbs in the dumpster, while Amy looks up at the night sky, smiles, and puts her wedding ring on. (♫ Bassnectar - You & Me ♫)
Cast
Main cast
Featured cast
See also
Also see Season One minor employees.
Running Gags
Amy's name tag: Amy wears a different name tag in every episode. For this one it's "Ramona".
Crazy Customers and music: For all customer interludes and music see Pilot (music).
Glenn's tie: Glenn wears two ties. For most of the episode he wears the one with large cartoon clouds. When watching Bo's flash mob proposal, he's wearing the tie with many clouds.
References
Trivia
Besides the main cast, the characters Brett, Elias, Sal and Uptight Lady are introduced in this episode. Elias doesn't speak until Season Two. ("Olympics") Brett doesn't speak until a tornado hits the store. ("Tornado")
The Surveillance Office with monitors used by Dina is first seen.
The pilot was filmed in a Kmart. Their pricing tags on the shelves and other signage can be spotted.
Quotes
"Smart. We always keep the best rolls right in the middle."— Amy
Gallery
v

•

e
Superstore Season One Episodes
  
"Pilot"
November 30, 2015
Directed by: Ruben Fleischer - Written by: Justin Spitzer

The main characters are introduced. Jonah is attracted to Amy but Dina thinks he is attracted to her. (Viewers: 7.23 million)
  
"Shoplifter"
January 11, 2016
Directed by: Ruben Fleischer - Written by: Jackie Clarke

Dina tracks a shoplifter, Amy brings her daughter Emma to work even though it isn't allowed so Jonah helps out. (Viewers: 5.38 million)
  
"Secret Shopper"
January 18, 2016
Directed by: Alex Hardcastle - Written by: Lon Zimmet

Amy feels competitive when Glenn publicly congratulates Jonah on his superb employee test results. Cloud 9 employees are on their best behavior in anticipation of a secret shopper. (Viewers: 5.66 million)
  
"Color Wars"
January 25, 2016
Directed by: Andy Ackerman - Written by: Jack Kukoda

The store is divided into two sales teams competing for $100 each, Jonah meets Amy's husband Adam. (Viewers: 4.93 million)
  
"All-Nighter"
February 8, 2016
Directed by: Christine Gernon - Written by: Eric Ledgin

After working overtime to put up new signs, the staff are locked in the store. They find unique ways to amuse themselves and bond in the process. (Viewers: 5.19 million)
  
"Demotion"
February 15, 2016
Directed by: Linda Mendoza - Written by: Matt Hubbard and Lon Zimmet

Dina asks for a demotion in order to date Jonah, Amy and Glenn deal with finding a replacement. (Viewers: 3.09 million)
  
"Labor"
February 22, 2016
Directed by: Beth McCarthy-Miller - Written by: Owen Ellickson

Cheyenne is having her baby in the store but won't stop working because Cloud 9 doesn't offer paid maternity leave. To help her Jonah proposes a walkout. (Viewers: 4.68 million)