"Quinceañera" is the seventeenth episode of Season Four of Superstore, and the seventy-first episode of the show overall.
Summary
Jonah struggles to find his place at Amy's daughter Emma's quinceañera. Dina proves very popular with some teenage boys. Cheyenne and Mateo are obsessed with seeing Amy cry.
Plot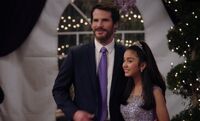 At the store, Jonah shows Amy various gifts he's bought for Emma's quinceañera and wonders if he should attend. Believing Emma's never accepted him dating Amy and that attending might make the event awkward, since Amy's family including her ex, Adam will be there, Amy convinces him to go. The party is large and held in an outdoor tent. (♫ Rey El Vikingo - Que Se Forme El Party ♫) Jonah greets Emma and they are approached by a photographer who mistakes Jonah for Emma's father. Feeling uncomfortable, it's made worse for Jonah when Adam shows up and the photographer compliments his height and looks. Mateo and Cheyenne compliment Amy on the party and seeing Amy choke up watching Emma, comment that they've never seen her cry. Glenn says he has and trying to mimic Amy crying, Cheyenne and Mateo decide they want to have it happen.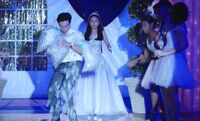 A girl leaves a present at the gift table that has a sign with instructions where to send money for those who forgot a gift. (♫ Kenny Rogers - Through the Years ♫) Finding Jonah keeping to himself, Amy encourages him to mingle. Calling her parents Ron and Connie Sosa over, Jonah's compliments to them fall flat and he excuses himself to go buy some ice for the party. Dina's tight, low-cut dress results in a number of teenage boys staring at her breasts which makes Garrett question her wardrobe selection for the occasion. A boy eats from a chocolate fountain with his hands. (♫ Cheap Trick - I Want You to Want Me ♫) As the DJ announces Emma's formal entrance, Jonah comes through the presentation arch with bags of ice. (♫ Bea Miller - S.L.U.T. ♫) Emma bumps into him, he fumbles the bags and one spills open, ruining Emma's special moment. Jonah stammers an apology and leaves.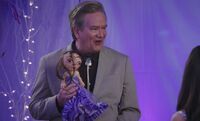 Amy consoles Jonah and says most of the kids there probably didn't notice. To prove her point, she yells at two teens who are on their phones, who don't respond to her. Dina tells Adam that Amy and Jonah didn't fool around when he was still married to Amy but then somewhat back-tracks when recalling their kiss during the tornado and them having sex that was broadcast to all Cloud 9 stores. Garrett catches teenager Shane staring at Dina's breasts again and rebukes him. When Shane learns Garrett dated Dina, he asks several questions about her breasts which gets Garrett describing them in detail and finally offering to draw them. Glenn gives Emma a traditional quinceañera doll which he and Jerusha made. However, the doll is creepy and adorned with Jerusha's hair, causing Emma and Amy to thank Glenn through clenched teeth.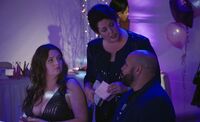 A man sees a band-aid in the chocolate fountain. (♫ Terrell Burt - Come and Dance ♫) As one of Emma's uncles makes a speech about chastity, Cheyenne and Mateo comment how many similar speeches have been made. Garrett draws Dina's breasts for Shane while describing them. The uncle uses Jonah's gaff in a joke which everyone laughs at. A man puts a lot of hair spray on. (♫ Rick James & Teena Marie - Fire and Desire ♫) Another relative makes a speech on chastity and passes the mic to Jonah whose emphatic refusal to speak makes it sound like he doesn't care about Emma. Amy has to stop him during his long-winded apology. Dina forcefully indicates she'd like to speak about female pleasure which Amy prevents by smashing the mic. Outside, Amy jokes with Jonah about him leaving but actually, wants him to stay but not be so noticeable. Shane's mother scolds Garrett and gives him the drawing of Dina's breasts which Dina recognizes as hers. She teases Garrett about being infatuated with her which he denies.
With Amy, Cheyenne and Mateo observe how quickly Emma's life is passing but are disappointed when she barely shows any emotion. Delving further into Honduran culture, Glenn tries some spicy food in front of Connie and Ron and coughs violently. Using mics, Cheyenne and Mateo sing a sad song for Amy, interspersed with comments about Emma leaving her soon. (♫ Bette Midler - Wind Beneath My Wings ♫) Bringing strange looks from most everyone but no tears from Amy, they ask the DJ to play another sad song which Amy tries to stop. Garrett's continued denials to Dina that he's obsessed with her results in Dina asking Shane to dance and openly trying to provoke jealousy in Garrett.
Jonah sits alone at a table until Emma sits beside him and stares into space. (♫ Julian De Vizio - Party Up ♫) As Jonah apologizes, she stops him and confesses that she's high. The DJ plays chess on his computer while playing music. (♫ Van Cleaf & Huxley Ware - In The Morning ♫) Asking for help and to keep this from her parents, Jonah rudely shoos Connie away when she tries to sit with Emma. Dina dances with Shane in a goofy, provocative manner, unsuccessfully trying to make Garrett jealous. Adam compliments Amy on the party and tries to impress her with another get-rich-quick scheme involving drones. Glenn dances with a group of children, believing he's experiencing more Latin culture. The DJ clears the dance floor and announces the father-daughter dance.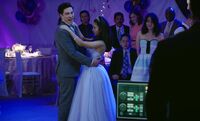 Afraid Adam will discover she's high, Emma refuses to get up until reassured by Jonah. (♫ Christina Perri - A Thousand Years ♫) However, walking strangely to Adam, she turns back and Jonah intercedes, saying he'd like to have a dance with her first. Adam, Amy, the DJ and Connie protest, but Jonah refuses to let Emma go. The party over, Jonah apologizes to Amy who reveals that Emma confessed to being high. Thanking Jonah, she says she wants to know right away the next time one of her kids is on drugs. Mateo and Cheyenne approach Amy and try to show her a moving video. When Amy refuses to watch it, in a last-ditch attempt to make Amy cry, Cheyenne kicks her in the shin. Amy swears at her, Cheyenne apologizes, and she and Mateo leave quickly. Jonah says Amy should have kicked Cheyenne back.
Cast
Main cast
Featured cast
See also
Also see Season Four minor employees.
Running Gags
References
Trivia
Quotes
"This is, like, the fifth speech in a row about Emma's virginity."— Mateo
Gallery
Video
v

•

e
Superstore Season Four Episodes
  
"Back To School"
October 4, 2018
Directed by: Matt Sohn - Written by: Jonathan Green

On their first day back from suspension, Amy and Jonah steel themselves for a barrage of jokes and snide comments about their sex video, while Jeff goes to extreme lengths to win back Mateo.
  
"Toxic Work Environment"
October 18, 2018
Directed by: Jay Karas - Written by: Aaron Lee

Amy and Jonah get combative to keep their new relationship hidden from their co-workers. Meanwhile, Glenn spirals when he learns Kelly wants to transfer to a new store, and Cheyenne struggles to organize a Cloud 9 carpool.
  
"Costume Competition"
October 25, 2018
Directed by: Todd Biermann - Written by: Justin Shanes

When an employee costume competition is announced, Amy and Mateo aren't afraid to play dirty to win first prize, a paid day off. Meanwhile, Glenn is preoccupied by Cloud 9's new automatic cart collector, and Garrett is tormented by an annoying Halloween novelty song.
  
"Delivery Day"
November 1, 2018
Directed by: Daniella Eisman - Written by: Gabe Miller

Amy and Dina are both in labor! But while Glenn's manager status gets Dina the royal treatment at a fancy hospital, Amy and Jonah have a far different experience at a cheaper clinic. At the store, Garrett struggles to express his best wishes for the new parents.
  
"Maternity Leave"
November 8, 2018
Directed by: Jackie Clarke - Written by: Jackie Clarke

Amy faces a nightmare day at work when she learns she doesn't have maternity leave, made worse by Cheyenne and Mateo campaign to change her baby's name. Meanwhile, Jonah and Garrett take on hiring the new seasonal help.
  
"New Initiative"
November 15, 2018
Directed by: Ken Whittingham - Written by: Ben Dougan

When a new Cloud 9 initiative forces employees to be friendlier to their customers, Amy ends up getting to know Jonah's parents, and learns he hasn't been completely truthful with them. The new policy also inspires Garrett and Dina to find out who can hold a smile longer.
  
"Managers' Conference"
December 6, 2018
Directed by: Phil Traill - Written by: Brian Gatewood & Alessandro Tanaka

Jonah and Amy take Glenn's tickets to a managers' conference in Chicago so they can enjoy a free night on the town, but their plan hits a few bumps. At the store, Cheyenne helps Mateo damage control after his undocumented status is leaked, and Dina and Garrett struggle at gift-wrapping.
  
"Shadowing Glenn"
December 13, 2018
Directed by: Geeta V. Patel - Written by: Matt Lawton

Glenn drives Amy crazy with a new, over the top training system. Cheyenne and Mateo brainstorm a new business, while Dina recruits Jonah to help her when she starts second-guessing her own future.
  
"Steps Challenge"
March 14, 2019
Directed by: Todd Biermann - Written by: Bridget Kyle and Vicky Luu

Corporate introduces a friendly step-tracking challenge between Cloud 9 branches, and Amy, Jonah, and Dina create a fake rivalry to inspire Store #1217's laziest employees. But healthy competition gets increasingly chaotic when the fake rivalry becomes real.
  
"Blizzard"
March 21, 2019
Directed by: Amy York Rubin - Written by: Dayo Adesokan

With a massive snowstorm beating down on St. Louis and an unsympathetic home office, the Cloud 9 employees and customers get snowed in, leading to escalating tensions and in-fighting.
  
"Lovebirds"
March 28, 2019
Directed by: Mark McKinney - Written by: Aaron Lee

Jonah and Amy's first Valentine's Day together gets derailed when Dina brings her birds to work, which also causes trouble for Garrett. Meanwhile, Cheyenne offers to give Marcus a sentimental tattoo, and Glenn makes videos for his daughter to watch while he's at work.
  
"Minor Crimes"
April 4, 2019
Directed by: Ross Novie - Written by: L.E. Correia

Amy jumps at an amazing career opportunity, only to run up against an exec with a major grudge against her. Jonah and Mateo help Glenn with a financial problem, while Garrett and Cheyenne struggle to spend a day without cell phones.
  
"Salary"
April 11, 2019
Directed by: James Renfroe - Written by: Ben Dougan & Matt Lawton

Amy finds herself at odds with her coworkers when some salary numbers get leaked, while Dina worries that Jonah is coming between her and Amy. Mateo tries to give himself a promotion, and Garrett attempts to sabotage Glenn's positive attitude.
  
"Quinceañera"
April 25, 2019
Directed by: Rebecca Asher - Written by: Justin Shanes

Jonah struggles to find his place at Amy's daughter Emma's quinceañera. Dina proves very popular with some teenage boys. Cheyenne and Mateo are obsessed with seeing Amy cry.
  
"Cloud Green"
May 2, 2019
Directed by: Heather Jack - Written by: Jonathan Green & Gabe Miller

Despite Dina's protests, Amy lets Glenn's pastor host an Earth Day booth at the store, but things quickly unravel when Glenn won't recognize Amy's authority. Jonah spearheads Cloud 9's green initiative, but is met with apathy from his coworkers.
  
"Scanners"
May 9, 2019
Directed by: Victor Nelli Jr. - Written by: Dayo Adesokan & L.E. Correia

Dina agrees to play the bad guy when corporate forces Amy to cut everyone's hours. Meanwhile, Jonah and the other employees play an elaborate game of laser tag with the store's new scanners, and Mateo makes a startling discovery about Marcus.
  
"CLOUD9FAIL"
May 9, 2019
Directed by: Betsy Thomas - Written by: John Kazlauskas & Josh Malmuth

When a photo of a mess at store 1217 goes viral, Amy and Jonah try to use it to their advantage, while Dina starts hunting for the anonymous tweeter. And with money tight now that their hours have been cut back, Mateo, Cheyenne, Garrett, and Glenn sell their personal items in the store.
  
"Sandra's Fight"
May 16, 2019
Directed by: America Ferrera - Written by: Sean Lee & Jen Vierck

Amy and Dina visit Cloud 9 corporate to fix problems caused by Sandra's misguided activism, while Jonah tries to sabotage an employee meeting and Garrett tries to prove to his co-workers that he's a good person.
  
"Employee Appreciation Day"
May 16, 2019
Directed by: Jeffrey Blitz - Written by: Justin Spitzer

Amy and Jonah find themselves on opposing sides as corporate tries to win over employees by showering them with treats. But when the company's tactics grow more extreme, everyone must band together to save one of their own.