So who's gonna help me get out there and make this roll-out huge?

Rex Joshi is a Vice President from Cloud 9 Corporate. He is very enthusiastic, uses a lot of hand gestures and is glib. He is a former business school classmate and friend of Jonah. He is portrayed by actor Ravi Patel.
Character History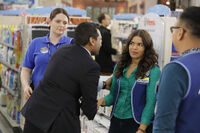 With the launching of the new Cloud 9 brand SuperCloud, VP Rex is shown around the store by Jeff Sutin. When meeting the staff, Rex is very energetic and uses lots of hand gestures to try and get everyone excited about the brand launch. As Jonah deals with a customer, Rex recognizes him from their college days. Jonah explains how he ended up working at the store and Rex starts to tell Amy about Jonah in college including his nickname "Iceman". Rex shows a video of Jonah making a business presentation in college which evokes a lot of teasing from Amy, Glenn and Garrett. The teasing of Jonah reaches a head and he turns off the TV. Rex mentions that Jonah's enrolment is still active and he can go back to school. This brings concern from Amy and Glenn. At the end of day, Rex hugs Jonah in the parking lot and says next time he's in town, they'll go for drinks. He introduces himself to Amy even though they've already met and then gets in his BMW. ("Rebranding")
Gallery
Community content is available under
CC-BY-SA
unless otherwise noted.