Oh no, that was just my doctors.

Roger Soper was an employee at Cloud 9 Store 1217. He is a sales associate who also works the snack bar. He is noted for his very white hair and skin. He is portrayed by actor Dennis Hurley.
Character History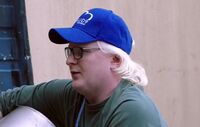 Roger is seen on election day 2016 dumping nacho cheese into a garbage bin as Mateo is trying to get an "I Voted" sticker out of the bin. Roger says that rats gave birth in the cheese and cooked themselves to death. ("Election Day")
He's next seen in the Break Room on the day the store is robbed. As the staff argue who is the opposite of baby Hitler, he offers Lance Bass. Later, when Jeff Sutin gives a talk on bullying, Roger says his doctors make fun of his pale complexion. As Amy approaches Sandra about forming an employee social group that she quickly realizes are the store "losers", Roger is seen in the group and is enthusiastic about going bowling. He says that bowling alleys are dark so he can make whatever facial expression he wants to. When Amy backs out, he is visibly angry. ("Workplace Bullying") He is fired for posting a Facebook video in which he farts into cups at the Coffee & Bakery. Cheyenne dared him to and filmed the video. ("Viral Video")
Community content is available under
CC-BY-SA
unless otherwise noted.