What the hell are you doing with my daughter!

Ron Sosa is Amy's father. He is easy going, paints and love to tease Amy's friends. He is portrayed by actor Tony Plana.
Character History
Amy brings Jonah to her parent's house to help move boxes to their new home believing that her parents aren't home. They are home and Ron tells Amy they are behind schedule. Ron has packed one box and Amy has to point out to him that he's forgotten a lot such as his heart medicine. Ron shows Jonah his paintings of celebrities and offers one to him and then asks for $30 for it. Ron interrupts Jonah and Amy in her bedroom and accuses Jonah of fooling around with Amy but he's just joking. Amy's cousins have arrived so he says he's going out to get ice. ("Integrity Award")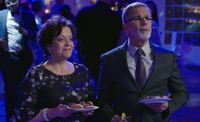 At Emma's quinceañera, as Jonah feels uncomfortable and keeps to himself, Amy calls Connie and Ron over. Jonah's compliments to them fall flat and he excuses himself to go buy some ice for the party. Delving further into Honduran culture, Glenn tries some spicy food in front of Connie and Ron and coughs violently. When Jonah intercedes in the father-daughter dance to keep secret that Emma is high, Ron spreads his arms in exasperation. ("Quinceañera")
Trivia
Community content is available under
CC-BY-SA
unless otherwise noted.