"Safety Training" is the fourteenth episode of Season Three of Superstore, and the forty-sixth episode of the show overall.
Summary
When Mateo gets injured, Jonah tries to help him avoid Cloud 9 compensation for fear of his immigration status being revealed. Meanwhile, Amy attempts to convince everyone that she likes Kelly.
Plot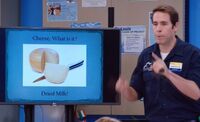 In the Break Room, Marcus gives a presentation on cheese to the staff while Sandra hands out samples. After he names a few basic cheeses and asks what others exist, various types are named. He doesn't recognize any and shows a slide with a nursing mother and touts human cheese. The staff spit out the samples but he assures them it's just string cheese and then asks who wants to invest in creating human cheese. Kelly says she likes grilled cheese and Amy makes a snide comment to her. In the store Dina catches Amy watching Jonah and Kelly put up St. Patrick's Day decorations and kids Amy about her crush on Jonah. Dina warns Amy that staff are going to figure our her crush if she keeps being mean to Kelly. Amy doesn't think she's mean to Kelly so Dina has Sandra recall (using her amazing memory) various negative comments Amy made to Kelly. A tanned, naked man tries on a pair of swimming trunks in the middle of the store. (♫ Wang Chung - Everybody Have Fun Tonight ♫)
As Kelly is rushing to put up decorations, Amy makes friendly advances towards her. She tells Kelly that she considers her a friend and that her past comments were just jokes. Kelly isn't convinced and while they talk, a large hanging sign falls from the ceiling and crashes into a display. Kelly tells Amy she put up the sign and didn't know she needed to use bolts. Marcus tries to convince Jonah, Garrett and Mateo to invest in human cheese but Mateo is distracted by a customer he likes. Glenn discovers the mess from the fallen sign and as Kelly is about to admit to it being her fault, Amy takes responsibility. Glenn is surprised and tells Amy to clean the mess up. Kelly thanks Amy and as Amy downplays her selflessness and points out that no one got hurt, another sign Kelly put up crashes onto Mateo as he approaches the customer he likes.
In the Surveillance Office, Dina and Amy watch the video of Kelly improperly hanging a sign and Dina asks Amy why she took the blame for Kelly's mistake. Amy lies that she wants to show everyone she likes Kelly and Dina realizes it is due to Amy's crush on Jonah. Dina promises to keep the secret and vows to help sell the lie. Some staff gathers around Mateo as he is icing his wrist. Marcus and Justine both tell Mateo they received a settlement when they were hurt. Mateo doesn't consider himself a good negotiator so Jonah volunteers to help him. Marcus didn't know he could have negotiated for more money and thinks he should get hurt again. As Kelly helps Amy clean up the mess, Dina interrupts and tells Kelly to stop as she shouldn't being cleaning up "Amy's mess". After Kelly leaves Dina whispers to Amy that she's helping Kelly not suspect Amy has a crush on Jonah.
In the deli, Sofia catches Marcus trying to cut his thumb off in the meat slicer. In the Break Room, Jeff offers Mateo a $1000 settlement. Jonah negotiates lamely and then says they'll take it. As Amy is about to re-hang the signs on a scissor lift, Glenn assigns Sandra to work with Amy and downplays the reasons why. As Jonah and Mateo look through the fine print of the settlement document, they discover that a background check is required which will reveal Mateo's undocumented status so they inform Jeff they are turning down the offer. Marcus continues to try and cut his thumb off but can't summon the courage. On the scissor lift, Sandra is crowding Amy and writing down every small mistake she makes. In frustration, Amy grabs her clipboard and the lift starts to move. Sandra grabs Amy, cries out in terror and the lift crashes into a display.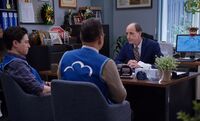 Glenn gathers staff who have had accidents (which include Amy) for safety training. The staff wear orange trainee vests and Glenn takes them through the basics of mopping in the middle of the store. Myrtle thinks that "Caution - Wet Floor" signs are put out on the holidays. Garrett catches Marcus on a ladder and finds out he's trying to get injured but is too scared. Marcus asks Garrett for help and he accepts. Jeff approaches Jonah and Mateo and offers a higher settlement figure which he says is the final offer. When they turn him down, he keeps offering higher figures which to his frustration are refused. As Amy is mopping, an acquaintance from the PTA offers her sympathy over her divorce from Adam. Dina interrupts asking for a urine sample to find out if drugs are the reason Amy is having accidents which embarrasses her. In Glenn's Office, Jeff's boss is on the phone and Mateo is offered $50,000. When this is refused, Jeff and Mateo argue about their past relationship which embarrasses Jeff in front of his boss.
In the Stock Room, Garrett ominously asks Marcus to climb into the box crusher while holding the start button. In the Warehouse, Glenn instructs staff on how to lift boxes. Kelly sympathizes with Amy and ponders admitting to her mistake but she's not sincere which bothers Amy. In the Surveillance Office, Amy tells Dina she feels she's overtaking the blame for Kelly's mistake. Amy wants Dina to show the video of Kelly messing up to the staff while she pretends to try and stop Dina. In the Stock Room, Marcus can't climb into the box crusher and says Garrett is freaking him out. Garrett says it's because Marcus knows the accident is coming. Garrett says he'll strike when Marcus has totally forgotten about him arranging for an accident and that he won't relent even if Marcus says he doesn't want to get hurt. Marcus is terrified.
In the hallway, Jeff gives Mateo a settlement check of $10,000 and considers the matter settled. When Mateo still refuses to accept it, Jeff accuses him of trying to make him look bad in front of his boss. Mateo admits that he is undocumented and that is the reason he can't accept the check and why he broke up with Jeff. In the Break Room, Dina gathers the staff to show them the video of the sign falling due to Kelly's incompetence. Amy fakes that she doesn't want the video shown. Dina can't figure out how to work the playback and video of when the tornado hit the store is shown including Amy kissing Jonah. The staff gasp in shock, Kelly is stunned and Jonah and Amy are embarrassed.
Cast
Main cast
Featured cast
See also
Also see Season Three minor employees.
Running Gags
References
Trivia
Quotes
"I got assaulted by a giant pot of gold!"— Mateo
Gallery
v

•

e
Superstore Season Three Episodes
  
"Part-Time Hires"
October 12, 2017
Directed by: Todd Biermann - Written by: Josh Malmuth

Emma gets a job at the store and Amy asks Jonah for parenting advise. Garrett and Dina argue over who broke up with whom, a cute construction worker flirts with Mateo, Cheyenne and Carol for store perks; Kelly has a rough first day. (Viewers: 4.33 million)
  
"Workplace Bullying"
October 19, 2017
Directed by: Tristram Shapeero - Written by: Bridget Kyle and Vicky Luu

After an attempted robbery, tensions arise between Dina and Jonah. Glenn has a tough time firing a store security guard and Amy discovers her coworkers have been hanging out without her. (Viewers: 4.20 million)
  
"Sal's Dead"
October 26, 2017
Directed by: Geeta V. Patel - Written by: Gabe Miller

A dead body is discovered in the store on Halloween, throwing Glenn and Dina into a panic and confusing the shoppers. Amy and Garrett get into big trouble using a dating app on Jonah's phone, Mateo is transformed in more ways than one by Cheyenne. (Viewers: 4.61 million)
  
"Health Fund"
November 2, 2017
Directed by: Victor Nelli, Jr - Written by: Jackie Clarke

As Mateo turns to stranger and stranger home remedies for an ear infection, Amy and Jonah decide to offer an alternative to Cloud 9's terrible health insurance plan. Glenn enlists Dina to help him get medical attention for his own embarrassing condition. (Viewers: 3.54 million)
  
"Christmas Eve"
December 5, 2017
Directed by: Todd Biermann - Written by: Eric Ledgin

Trying to prove how wild she can be, Amy turns a boring Christmas Eve at the store into a holiday adventure. Jonah and Garrett's roommate issues boil over and Glenn tries to prove to Mateo that Christmas is more than just fine. (Viewers: 4.41 million)
  
"Viral Video"
January 4, 2018
Directed by: Ken Whittingham - Written by: Jonathan Green

After an employee posts a controversial video online, Dina enlists Cheyenne to help police the rest of the staff's social media accounts. Amy learns something about Jonah that drives her to desperately pursue Instagram views, and Glenn suspects Mateo of rewards card fraud. (Viewers: 3.90 million)
  
"Golden Globes Party"
January 11, 2018
Directed by: Victor Nelli, Jr - Written by: Vanessa Ramos

When Amy throws a party to prove how great she's doing post-divorce, she's forced to enlist Dina and Jonah's help, and Dina ends up making the ultimate sacrifice. Glenn and his wife Jerusha are forced to conduct some personal business at Amy's home. (Viewers: 3.85 million)
  
"High Volume Store"
January 18, 2018
Directed by: Jay Hunter - Written by: Owen Ellickson

When Jeff announces that the store could be getting an upgrade, Amy, Jonah and Dina set out to discover the pros and cons. Cheyenne accidentally volunteers to be a surrogate mother for Glenn's baby and tries to get out of it. (Viewers: 3.71 million)
  
"Angels and Mermaids"
January 25, 2018
Directed by: Michael Spiller - Written by: Justin Shanes

Amy finds herself caught in the middle of a conflict between Cheyenne and her ex-convict mom, Brandi. A personal agreement between Glenn and Dina gets heated when Glenn brings in a lawyer. When Jonah finds out that Kelly believes in angels, Garrett's perfect weekend plans of having the apartment to himself are threatened. (Viewers: 4.22 million)
  
"Groundhog Day"
February 1, 2018
Directed by: Jaffar Mahmood - Written by: Sierra Teller Ornelas

Still fresh from her divorce, Amy doesn't feel ready to start dating again. But when Mateo tries to set her up with his loser cousin, she gets determined to show everyone she can do better and breaks some hearts in the process. Dina takes advantage of her pregnancy to scam Glenn into accommodating her every whim. (Viewers: 3.46 million)
  
"Video Game Release"
March 1, 2018
Directed by: America Ferrera - Written by: Jackie Clarke

When gamers invade the store for the release of a hot new video game, Jonah tries to help Amy secure herself a copy of the game, which takes them on an unexpected adventure. Mateo helps Garrett make a good impression on one of his heroes. Glenn and Sandra try to stand up for themselves with customers and end up instigating a breastfeeding "nurse-in." (Viewers: 3.38 million)
  
"Safety Training"
March 8, 2018
Directed by: Rebecca Asher - Written by: Bridget Kyle and Vicky Luu

When Mateo gets injured, Jonah tries to help him avoid Cloud 9 compensation for fear of his immigration status being revealed. Meanwhile, Amy attempts to convince everyone that she likes Kelly. (Viewers: 3.37 million)
  
"Amnesty"
March 15, 2018
Directed by: Keith Powell - Written by: Eric Ledgin

Glenn and Dina offer amnesty to all the employees for any bad things they confess so Garrett and Cheyenne try to decide how to take advantage of it. Meanwhile, Jonah and Amy try to defuse an awkward situation that has the whole store gossiping. (Viewers: 3.93 million)
  
"Target"
March 22, 2018
Directed by: Daniella Eisman - Written by: Jonathan Green and Gabe Miller

When Jeff leaves Cloud 9 to work at Target, Garrett leads Glenn to believe that he's poaching other employees to go with him. In return Glenn tries to poach employees from Target. Amy goes on a double date with Dina and, Kelly and Jonah discuss moving in together. (Viewers: 3.85 million)
  
"District Manager"
March 29, 2018
Directed by: Alex Reid - Written by: John Kazlauskas

Laurie, the new district manager, visits the store and decides to make some cuts to save money by firing Myrtle. Amy and Jonah plead with her to not fire anyone and search for other ways to make up the money. Mateo struggles to prove his skills on the cash register. (Viewers: 2.94 million)
  
"Local Vendors Day"
April 5, 2018
Directed by: Geeta V. Patel - Written by: Josh Malmuth

When local small businesses set up shop inside Cloud 9, Glenn tries to help his wife Jerusha sell her handmade needlepoint, despite Jonah's concerns that he's pressuring his employees. Meanwhile, Amy doesn't feel Latina enough when a guy flirts with her in Spanish, and Garrett tries to uncover the truth behind a beer vendor's product. (Viewers: 3.17 million)
  
"Lottery"
April 12, 2018
Directed by: Ben Feldman - Written by: Vanessa Ramos

As lottery mania sweeps the store, Dina incentivizes the employees to sell as many tickets as possible. Jonah helps Amy track down the new district manager to lobby for a raise. (Viewers: 3.08 million)
  
"Gender Reveal"
April 19, 2018
Directed by: Tristram Shapeero - Written by: Lauren Ash

The store hosts a gender reveal party for Glenn and his wife Jerusha, just as Dina is freaking out at the realities of having to deliver a baby. Amy receives some unsettling news. (Viewers: 2.76 million)
  
"Aftermath"
April 26, 2018
Directed by: Ryan Case - Written by: Justin Shanes and Owen Ellickson

Amy and Jonah deal with the consequences of their kiss. Glenn and Dina enlist Garrett's help to win the store a visit from Cloud 9's CEO. (Viewers: 2.85 million)
  
"Town Hall"
May 3, 2018
Directed by: Matt Sohn - Written by: Justin Spitzer

As the store prepares to host a company-wide Town Hall meeting, Amy and Jonah are forced to put their conflicts aside and rally their co-workers to confront the CEO. Glenn struggles with the pressure of speaking to a global audience. (Viewers: 2.97 million)