"Sandra's Fight" is the twenty-first episode of Season Four of Superstore, and the seventy-fifth episode of the show overall.
Summary
Amy and Dina visit Cloud 9 corporate to fix problems caused by Sandra's misguided activism, while Jonah tries to sabotage an employee meeting and Garrett tries to prove to his co-workers that he's a good person.
Plot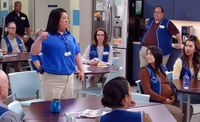 In the Break Room, Amy tries to get staff to do work once they've clocked out. Carol asks why Sandra is still at work, after being fired, which Amy explains that due to Sandra's union activities, she's been reinstated. Sandra expresses her hatred for management which Marcus applauds. In the store, Amy and Jonah wonder if Sandra's union stance is just so she can get attention. A man with a cut hand shops for gauze. (♫ Bob Marley & the Wailers - Jamming ♫) Cheyenne, Glenn and Mateo scold Garrett for not revealing to Dina that he was responsible for releasing her birds and, sleeping with her afterwards. Accusing him of being a mean person, Garrett seeks solace from Jonah who doesn't given him any.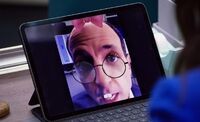 Skyping with Jeff in her office, Amy learns that Sandra's union activities could result in the store being turned into a distribution center. Sandra hangs up "Rise Up" posters. (♫ Erasure - A Little Respect ♫) In the Warehouse, Amy asks for Dina and Jonah's help in quietly stopping Sandra from speaking about unionizing which Jonah is uneasy with. Trying to show he's a good guy, Garrett brings Myrtle her shawl. However, Glenn doesn't see Garrett's gesture so Garrett tries to take the shawl back which Glenn interprets as Garrett being mean. While Sandra is handing out flyers, Amy and Jonah gently try to stop her. Telling her that corporate is viewing her activities as a threat spurs Sandra into climbing on top of a checkout counter and announcing a union meeting that evening.
In Break Room, discussion of unions involving Marcus, Justine, Sayid and others results in Dina shutting down the room. The Myrtle hologram runs out of battery power. Amy learns from Jeff that the store is being shutdown but she convinces him to set a meeting with the corporate executives, so she can change their minds. Taking Dina with her to Chicago, she asks Jonah to attend the union meeting and ensure it doesn't get out of hand. The union meeting is held in the store after hours where Sandra introduces labor organizer Robin Green. Living in the store, Marcus stumbles into the meeting in his underwear. At Cloud 9 Headquarters, Jeff meets Amy and Dina in the lobby and tells them that VP Claudia Lankow is the person to impress. Dina effuses over the company's history display.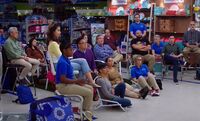 At the union meeting, Robin tries to engage the staff with a "union" word association exercise which Jonah puts a negative spin on. Many of the staff start inane associations with other words. In Chicago, Amy and Dina tell Claudia and the other executives that the union talk is only coming from Sandra, who is harmless. Told that the choice was to close their store or Bel-Ridge, Amy and Dina bad mouth Bel-Ridge. Robin lets Sandra hand out union cards and has to clear up confusion with them. Jonah continues to be negative and is accused by Sandra of being anti-union because he's sleeping with Amy. Jonah points out several realities such as retail dying and that the staff have no education. Saying their current conditions are the best most of them will ever get, it puts a damper on everyone's enthusiasm. However, he feels guilty for going against his beliefs.
In Chicago, Claudia calls district manager Laurie on speaker phone and asks her opinion which store should be shut down. Not knowing Amy is in the room, Laurie starts to malign Amy but before she can say her name, on purpose, Amy spills a drink. Announcing herself to Laurie, Amy blames the spill on having too many Cokes (the beverage) while subtly making reference to Laurie's cocaine addiction. Sighing, Laurie says to close the Bel-Ridge store. The union meeting over, Robin isn't interested in having future contact with Sandra, who still wants to meet. Glenn rues the lost opportunity to Jonah, which makes him more guilty. Back at the store, Dina tells Cheyenne and Mateo about Cloud 9 HQ.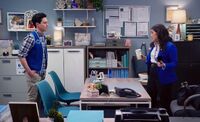 While stocking shelves, Garrett asks Glenn about Rose, bringing a threat from Glenn for Garrett to stay away from her. Garrett is able to convince Glenn that he does good things in secret while Glenn lies about anonymously donating a kidney, which he calls Jerusha about. Amy tells Jonah to give her details of who was most ardent at the union meeting so she can monitor them. Refusing, he accuses her of looking after her own job but immediately apologizes. Guilty that he killed the momentum behind forming a union, he welcomes Amy back but she can see he's not happy. As Sandra unsuccessfully tries to get Joanna to sign a union card, Jonah completes one and gives it to her.
Cast
Main cast
Featured cast
See also
Also see Season Four minor employees.
Running Gags
Amy's name tag: Amy wears a different name tag in every episode. For this one it's "Dwendyna."
Crazy Customers and music: For all customer interludes and music see Sandra's Fight (music).
References
Trivia
Quotes
"I'm just saying retail is dying. And we're already being replaced by machines that can do our jobs better and faster than us. And, and most of us have no education, no skills, and are just generally terrible. No offense."— Jonah
Gallery
Video
v

•

e
Superstore Season Four Episodes
  
"Back To School"
October 4, 2018
Directed by: Matt Sohn - Written by: Jonathan Green

On their first day back from suspension, Amy and Jonah steel themselves for a barrage of jokes and snide comments about their sex video, while Jeff goes to extreme lengths to win back Mateo.
  
"Toxic Work Environment"
October 18, 2018
Directed by: Jay Karas - Written by: Aaron Lee

Amy and Jonah get combative to keep their new relationship hidden from their co-workers. Meanwhile, Glenn spirals when he learns Kelly wants to transfer to a new store, and Cheyenne struggles to organize a Cloud 9 carpool.
  
"Costume Competition"
October 25, 2018
Directed by: Todd Biermann - Written by: Justin Shanes

When an employee costume competition is announced, Amy and Mateo aren't afraid to play dirty to win first prize, a paid day off. Meanwhile, Glenn is preoccupied by Cloud 9's new automatic cart collector, and Garrett is tormented by an annoying Halloween novelty song.
  
"Delivery Day"
November 1, 2018
Directed by: Daniella Eisman - Written by: Gabe Miller

Amy and Dina are both in labor! But while Glenn's manager status gets Dina the royal treatment at a fancy hospital, Amy and Jonah have a far different experience at a cheaper clinic. At the store, Garrett struggles to express his best wishes for the new parents.
  
"Maternity Leave"
November 8, 2018
Directed by: Jackie Clarke - Written by: Jackie Clarke

Amy faces a nightmare day at work when she learns she doesn't have maternity leave, made worse by Cheyenne and Mateo campaign to change her baby's name. Meanwhile, Jonah and Garrett take on hiring the new seasonal help.
  
"New Initiative"
November 15, 2018
Directed by: Ken Whittingham - Written by: Ben Dougan

When a new Cloud 9 initiative forces employees to be friendlier to their customers, Amy ends up getting to know Jonah's parents, and learns he hasn't been completely truthful with them. The new policy also inspires Garrett and Dina to find out who can hold a smile longer.
  
"Managers' Conference"
December 6, 2018
Directed by: Phil Traill - Written by: Brian Gatewood & Alessandro Tanaka

Jonah and Amy take Glenn's tickets to a managers' conference in Chicago so they can enjoy a free night on the town, but their plan hits a few bumps. At the store, Cheyenne helps Mateo damage control after his undocumented status is leaked, and Dina and Garrett struggle at gift-wrapping.
  
"Shadowing Glenn"
December 13, 2018
Directed by: Geeta V. Patel - Written by: Matt Lawton

Glenn drives Amy crazy with a new, over the top training system. Cheyenne and Mateo brainstorm a new business, while Dina recruits Jonah to help her when she starts second-guessing her own future.
  
"Steps Challenge"
March 14, 2019
Directed by: Todd Biermann - Written by: Bridget Kyle and Vicky Luu

Corporate introduces a friendly step-tracking challenge between Cloud 9 branches, and Amy, Jonah, and Dina create a fake rivalry to inspire Store #1217's laziest employees. But healthy competition gets increasingly chaotic when the fake rivalry becomes real.
  
"Blizzard"
March 21, 2019
Directed by: Amy York Rubin - Written by: Dayo Adesokan

With a massive snowstorm beating down on St. Louis and an unsympathetic home office, the Cloud 9 employees and customers get snowed in, leading to escalating tensions and in-fighting.
  
"Lovebirds"
March 28, 2019
Directed by: Mark McKinney - Written by: Aaron Lee

Jonah and Amy's first Valentine's Day together gets derailed when Dina brings her birds to work, which also causes trouble for Garrett. Meanwhile, Cheyenne offers to give Marcus a sentimental tattoo, and Glenn makes videos for his daughter to watch while he's at work.
  
"Minor Crimes"
April 4, 2019
Directed by: Ross Novie - Written by: L.E. Correia

Amy jumps at an amazing career opportunity, only to run up against an exec with a major grudge against her. Jonah and Mateo help Glenn with a financial problem, while Garrett and Cheyenne struggle to spend a day without cell phones.
  
"Salary"
April 11, 2019
Directed by: James Renfroe - Written by: Ben Dougan & Matt Lawton

Amy finds herself at odds with her coworkers when some salary numbers get leaked, while Dina worries that Jonah is coming between her and Amy. Mateo tries to give himself a promotion, and Garrett attempts to sabotage Glenn's positive attitude.
  
"Quinceañera"
April 25, 2019
Directed by: Rebecca Asher - Written by: Justin Shanes

Jonah struggles to find his place at Amy's daughter Emma's quinceañera. Dina proves very popular with some teenage boys. Cheyenne and Mateo are obsessed with seeing Amy cry.
  
"Cloud Green"
May 2, 2019
Directed by: Heather Jack - Written by: Jonathan Green & Gabe Miller

Despite Dina's protests, Amy lets Glenn's pastor host an Earth Day booth at the store, but things quickly unravel when Glenn won't recognize Amy's authority. Jonah spearheads Cloud 9's green initiative, but is met with apathy from his coworkers.
  
"Scanners"
May 9, 2019
Directed by: Victor Nelli Jr. - Written by: Dayo Adesokan & L.E. Correia

Dina agrees to play the bad guy when corporate forces Amy to cut everyone's hours. Meanwhile, Jonah and the other employees play an elaborate game of laser tag with the store's new scanners, and Mateo makes a startling discovery about Marcus.
  
"CLOUD9FAIL"
May 9, 2019
Directed by: Betsy Thomas - Written by: John Kazlauskas & Josh Malmuth

When a photo of a mess at store 1217 goes viral, Amy and Jonah try to use it to their advantage, while Dina starts hunting for the anonymous tweeter. And with money tight now that their hours have been cut back, Mateo, Cheyenne, Garrett, and Glenn sell their personal items in the store.
  
"Sandra's Fight"
May 16, 2019
Directed by: America Ferrera - Written by: Sean Lee & Jen Vierck

Amy and Dina visit Cloud 9 corporate to fix problems caused by Sandra's misguided activism, while Jonah tries to sabotage an employee meeting and Garrett tries to prove to his co-workers that he's a good person.
  
"Employee Appreciation Day"
May 16, 2019
Directed by: Jeffrey Blitz - Written by: Justin Spitzer

Amy and Jonah find themselves on opposing sides as corporate tries to win over employees by showering them with treats. But when the company's tactics grow more extreme, everyone must band together to save one of their own.