He pulled me into his Kia, and he said to me, "Sandra take out your taters".

Sandra Kaluiokalani was a sales associate at Cloud 9 Store 1217. She is from Hawaii, is shy and suffers from low self-esteem and lack of confidence. She has trouble bringing up legitimate concerns and speaks softly, even though she has important things to say and an incredible memory. She is portrayed by actress Kaliko Kauahi.
Character History
Sandra is first seen in the Break Room as Glenn announces that a a reporter from "Stratus" is coming to do an article on the store. Later, she tells everyone that she and Sal are having sex in the dressing rooms and she has self-esteem issues. ("Magazine Profile") She's in the Break Room to watch the racism training video starring Corporate Woman and complains she's being sexually harassed by Sal in the Stock Room. ("Shots and Salsa") She's on the Red Team and in the Break Room, interrupts Amy telling the Gold Team about the $100 sales competition incentive and struggles with a vending machine. ("Color Wars")
When the staff are locked in the store all night, Sandra is stuck on the top of gardening shelves the entire time. ("All-Nighter") Sandra interviews for assistant manager which impresses Amy but when she tries to high-five Sandra, she cowers and then leaves meekly. ("Demotion") As Cheyenne is going through false labor, Sandra mentions she's a mid-wife but no one hears her. She's is in the Break Room after Cheyenne's false labor when she is breathing heavily because her in utero baby is pressing against her lungs. She's in the group of employees who listens to Steve's (from corporate) seminar on why unions are bad and offers Dina some coffee. As Jonah complains about the company's poor treatment, Sandra says she hasn't had a raise in 5 years. She is among those who walk out to get Glenn his job back. ("Labor")
In the Break Room as Glenn tries to convince Mateo that America is #1, he says that even Sandra is an American that day. She points out she's from Hawaii. She's in Dina's Olympics closing ceremony audition line-up and reveals she has an incredible memory. ("Olympics") She's part of the walk-out to get Glenn his job back and complains that the workers don't get paid overtime. Later during the strike, Amy has a tug of war to keep Sandra on the picket line while Dina wants her to return to work. ("Strike") While looking for Marcus' severed thumb, Sandra finds a dead mouse under some shelving which she puts back. ("Back to Work") Sandra doesn't want to be assigned to men's wear as it reminds her of her ex-boyfriend Brian. ("Guns, Pills, and Birds") She laughs at Mateo when he says Jeff is "into him". ("Spokesman Scandal")
Sandra is assigned to get rid of hornet nets around the store but it doesn't go well for her. ("Dog Adoption Day") On Halloween, she dresses up like Dina. ("Halloween Theft") On Black Friday, Sandra brings a cold spinach casserole for the pot luck and after half the staff leave due to food poisoning, Amy pulls her off go-backs and assigns her to Housewares. Later Amy asks her to cover three departments but Sandra says complains about her knees. ("Black Friday") She gets a pair of dentures during the lost and found draw. After Amy finds money and uses it to make over the Break Room, Sandra finds Stuart, who lost the money, using her incredible memory. Everyone is angry with Sandra and doesn't care about her upcoming birthday party. ("Lost and Found")
She pretends to be dating district manager Jeff Sutin when rumors that he's dating an employee spread around the store. ("Rebranding") She meets Jerry at The Charhouse who is very interested in her but Carol interrupts and mentions her fake relationship with Jeff, ruining it for Sandra. ("Ladies' Lunch") She keeps up the ruse that she's dating Jeff by sending herself Valentine's presents which annoys Mateo. ("Valentine's Day") At the loading dock, she gets trapped behind a wall of boxes with a scanner and breaks it. ("Super Hot Store") Amy lies that Sandra is pregnant by Jeff which leads to Sandra admitting she lied about dating Jeff because she liked the attention. ("Wellness Fair") Glenn is concerned when Sandra changes her vote for the store's Integrity Award from him to Garrett. When the Break Room is cleared out for fumigation by a disguised Mateo, Dina says she doesn't care if Sandra stays or goes. ("Integrity Award")
Sandra angers Dina by constantly suggesting that "friends with benefits" describes Garrett and Dina's relationship. ("Mateo's Last Day") She finds a dead mouse when spring cleaning and is concerned which day Glenn is offering baseball tickets for. ("Spring Cleaning") At Cheyenne's wedding, she finds out Carol is dating Jerry. She and Jerry talk, dance and are very compatible. Jerry leaves with Carol but then comes back for Sandra and kisses her. ("Cheyenne's Wedding") Before a tornado hit the store, Carol phones Jerry in front of Sandra and lies to him that Sandra has herpes. When the tornado hits the store, Sandra ushers customers to safety in the Photo Lab but shuts Carol out. Both survive the tornado and are seen glaring at each other. ("Tornado")
Sandra is seen helping to prepare the store for the re-opening. When stacking soda bottles, a crock pot box falls and just misses her. She looks up to see Carol gives an insincere apology. Later, she tells Mateo and Cheyenne that Jerry was hit in the head by a mailbox in the tornado and is in a coma. ("Grand Re-Opening") At Brett's memorial service, Sandra plays Creep by Radiohead on a ukulele. As Jonah tries to find out Garett's past from Sandra, Garrett interrupts them and asks what they are talking about. Sandra tells a very believable story about Jonah asking questions on BBQing burgers and after Garrett leaves, Jonah tells her she's an incredible liar. In the Break Room, Sandra denies trying to murder Carol during the tornado, but she slyly admits she wasn't trying to save her. ("Brett Is Dead")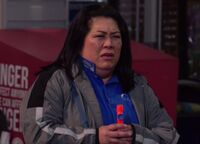 On the day the store is robbed, Sandra is in the Break Room as Amy hands out rape kazoos. As Amy finds most staff go to a trivia night without her and says she loves trivia, Sandra blows her kazoo and says she's not being raped. During Jeff's session on bullying, Sandra says the bus driver keeps moving the bus forward when she tries to get in. In Electronics, Amy approaches Sandra, Myrtle, Roger and others about an after-work activity. They respond with such great need and creepiness that Amy backs out and makes an excuse that she forgot that Emma has a "thing". Sandra begs to go to Emma's thing but Amy says no. At day end, Sandra is waiting outside to be parking lot buddies with Amy who tells her she's going to trivia with Mateo and Cheyenne. Sandra is disappointed and sees a hook-handed man in a raincoat waiting at the bus stop (as Sandra doesn't drive). She gets out her kazoo and walks hesitantly in the rain towards the man. ("Workplace Bullying")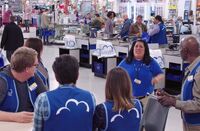 As the staff discuss home remedies due to Mateo's ear infection, Sandra mentions she has a cavity that she put candle wax in until the nerve died. She says to Glenn and Dina that Jerry has a growth on his teeth. After she's able to get an inhaler from the health fund Jonah creates, she hugs him in gratitude. As the demands on the fund quickly exceed its value, Jonah and Amy meet with the staff who are making too many claims and try to remove them from the fund. Sandra gets uncharacteristically upset, won't accept she's out of the plan and tells them to figure out a solution. At the meeting to improve the health fund, Sandra is unhappy that Jonah won't provide a live-in nurse for Jerry and asks why he and Amy get to play God. She is in Group B (who need to pay more) and watches Isaac crash into a vending machine. ("Health Fund")
Sandra is part of the group helping Glenn with the Christmas lights and mourns Jerry's condition but is cut off by Glenn. Later, she gets good news that Jerry is out of his coma. Since no one is sober enough to drive her to the hospital, she takes a store scooter. ("Christmas Eve") Sandra attends the Golden Globes Party at Amy's house with Jerry. He's recently woken from a coma and it becomes apparent that he's been rushed out of the hospital by Sandra as he can barely speak or perform basic functions. ("Golden Globes Party")
Sandra's in the Break Room as Marcus leads the staff in classifying mythical and real creatures and as Jonah and Kelly disagree over the existence of angels. She listens to Kelly's angel story which Jonah derides. Later, Sandra is Glenn's pawn as he indicates to Dina that she is now his surrogate. Glenn admits that no one would want to use Sandra as a surrogate to which Sandra agrees. When she says she's going back to work, Marcus thinks she is hitting on him. ("Angels and Mermaids") Sandra volunteers to be acting assistant manager but is cut off by Garrett who takes the job. Garrett gives Sandra permission to leave early so she can teach seniors water aerobics which causes a problem in soft lines. Later, she joins Jonah and Kelly doing announcements and reveals she never went to the ocean when she lived in Hawaii. Garrett is taking his manager duties seriously and snaps at Sandra. He gives her the job and she smiles. ("Groundhog Day")
Sandra is among the staff at the store front as Dina mentions the release of "Barbarians Gate 3" and mentions that she plays "The Sims". After Dina calls her and Glenn useless for not moving a line-up of gamers, they vow to no longer be doormats and start bossing around customers. When they do so to a nursing mother, she starts a protest with other breastfeeding mothers. As Glenn explains the "nurse-in" to the staff, Sandra wonders why people don't drink breast milk and make cheese with it. Dina calls her and Glenn pathetic when they can't get the mothers to disburse. ("Video Game Release")
In the Break Room, Marcus gives a presentation on cheese to the staff while Sandra hands out samples. When Marcus uses the word "udderly" Sandra corrects him which angers Marcus. Amy doesn't think she's mean to Kelly so Dina has Sandra recall (using her amazing memory) various negative comments Amy made to Kelly. As Amy is about to re-hang the signs on a scissor lift, Glenn assigns Sandra to work with Amy and downplays the reasons why. On the scissor lift, Sandra is crowding Amy and writing down every small mistake she makes. In frustration, Amy grabs her clipboard and the lift starts to move. Sandra grabs Amy, cries out in terror and the lift crashes into a display. She's one of the staff that Glenn makes take safety training. Glenn tells Sandra to get her tushy closer to the ground when lifting boxes. She watches the video showing Amy and Jonah's kiss. ("Safety Training")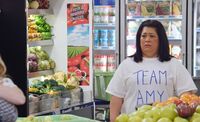 In the Break Room, Sandra is among the staff watching the video on a loop of Amy and Jonah kissing. After Isaac kids that Amy and Kelly will get into a cat fight, Sandra makes cat noises and gestures. She's annoyed that Corey stole her joke about pointing out where the condoms are to Amy and Jonah. In the Stock Room, Sandra makes fun of Amy and Jonah's kiss by teasing them with a sexual hand gesture which she gets wrong. She admits to Dina and Glenn that she paid 4 guys to ask Carol out and then stand her up and she also thinks Carol looks up to her. At the session with Pastor Craig, he approaches Sandra and asks about her wanting to kill Carol which she admits to. When Sandra goes into detail on how she plans to kill Carol, he is shocked. Sandra knows Carol messes with her lunch so prepares a decoy lunch which she's concerned Carol knows about. When Amy admits she had a crush on Jonah which surprises him, Sandra verbalizes the situation which causes Kelly to swear at her. She's in the group of staff pondering whether Jonah should be with Amy or Kelly. After Jonah and Kelly decide to move in together, she's seen in a "Team Amy" shirt. ("Amnesty")
At a going away party for Jeff, Sandra relates intimate details about her fake relationship with Jeff. When Jeff tries to poach staff to work at Target, she expresses her admiration for the store and offers to work there. Wearing a Target uniform, she overhears Jeff say he isn't working for Target and after confirming this with him, she runs off to find Glenn. ("Target") Justine, Marcus and Sandra watch Laurie work and Sandra complains about Laurie's shoes and then compliments them. In the dressing rooms, Sandra is concerned for Dina's baby when she's asked to tighten a corset on Dina so that her pregnancy doesn't show. She asks Dina to consider padding herself so she looks fat everywhere. She watches as Dina shows her padded self to Laurie. ("District Manager")
At "Local Vendors Day" in the store, Glenn notices Jerusha isn't selling much so he tells several staff at the café especially Sandra, they should buy one of her items. Sandra buys an armload of Jerusha's scarves. He later asks some staff if he's pressured them to buy things. Sandra says she felt pressured and relates how Glenn made her change his screen saver instead of attending to her sister who was giving birth. She's in the Break Room when Amy talks about not understanding Alex's Spanish and when Glenn yells at everyone to buy Jerusha's items or he'll fire them. Glenn throws her lunch in the garbage and she points out that she puts her medicine in her food. ("Local Vendors Day")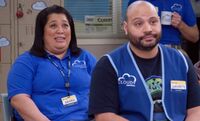 When Glenn announces that the lottery jackpot is the most its been in 20 years, the staff relate their lottery dreams but Sandra speaks of a wonderful philanthropic activity she's involved with that she'd give her winnings to. When Dina receives a text from an employee at another Cloud 9 store concerning lottery ticket sales, everything supportive thing Sandra says to Dina is shot down leaving Sandra confused. Sandra watches as Garrett shows rudeness to a customer who leaves without buying one. She tattles to Dina. At Glenn's budgeting session, Sandra suggests buying less or more lotto tickets. After Dina watches Garrett turn away a lottery customer, she uses Sandra to trick him into giving better service by lying that the seller of a winning ticket gets $5000. As Cheyenne and Mateo talk about their dream yacht, Sandra tells them they wouldn't win as much as they think due to taxes and other factors. As the staff and customers watch the lottery draw on the store's TVs, Sandra tells Dina that they sold the most lottery tickets. Dina won't let her join in the victory. ("Lottery")
Sandra watches the ultrasound of the baby Dina is carrying for Glenn and Jerusha and mentions that Jerry's family attended his catheter removal and his Mom held his penis. For the gender reveal party, Kelly assigns her to make a melon baby but she doesn't know what this is. Kelly and Sandra ask Garrett for the envelope containing the baby's gender so they can put the correct color of jelly beans in a piñata baby but Garrett can't find the envelope. He compares Kelly to a cartoon mouse and Sandra laughs. Sandra asks Amy how a cart of fruit babies she made looks which Amy thinks are terrible. She's at the party, says that Garrett was supposed to take care of the gender reveal and points out the melon baby she made. ("Gender Reveal")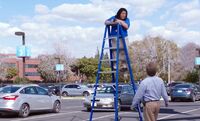 Sandra is in the Break Room to hear Amy is pregnant. Perched on a ladder, she's stuck taking the staff photo and rues that she's never in any of the past photos as she's always the photographer. When she notices an open spot, she suggests setting a timer and running to the spot but Dina fills it with a cut-out of Kelsey so Sandra takes the picture. In the Break Room, when Amy mentions that Adam offered to get back together with Amy, Sandra is thrilled. She watches the staff video she's a part of in which she mentions the staff got through the tornado like a family. ("Aftermath")
Sandra's in the Break Room to hear Laurie announce the store will be hosting the town hall. In the Warehouse, Amy and Jonah tell the staff about Cloud 9's policy to fire older employees without cause and try to make plans to use the town hall to reveal this. Sandra points out that they need proof the policy exists. At the loading dock, Dina and Sandra hide Jeff in a packing box. Dina tells Sandra to use the forklift to sneak Jeff into the store through the Warehouse while she distracts the guard. However, Sandra doesn't know how to drive the forklift but since Dina doesn't believe Sandra can distract the guard, she's stuck with the task. In the Warehouse, Dina distracts the guard while Sandra has difficulty driving the forklift. She drops the box containing Jeff and has to kick and push it through the Warehouse. Sandra's at the town hall and is among the staff that Jeff and Glenn approach after the town hall is over. ("Town Hall")
Sandra asks Amy why she and Jonah aren't together and later, hopes Jeff's surprise is a pizza truck. At the sexual harassment meeting, as Glenn tries to understand who harassed who in the sex tape, Sandra says there was no harassment as Amy and Jonah are supposed to be together. She also asks if they are still in love. ("Back To School") Dressed in an ugly Christmas sweater, Dina has Sandra taking photos for her Christmas card. Feeling it's too plain, Mateo starts pitching alternate photo ideas which intrigues Dina. Cheyenne and Sandra discover AMy is on the baby shower registry and angrily confront her that they weren't invited. Later, she meets with Amy to plan the shower and says her gift will be fancy lady gloves. While making the baby shower sign, Sandra adds Cheyenne's name to it. Sandra attends the baby shower but when leaving, comes across Dina, hanging from the ceiling dressed as an angel. Mateo, distracted by a stripper at the shower, forgets about her. Having to pee and desperate to get down, Dina calls out to Sandra who smiles evilly and walks away. ("Baby Shower")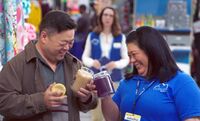 As Sandra and Jerry shop, Carol interrupts and they tell her they are moving in together. After Carol flashes Jerry, Sandra crashes a cart into Carol's cart and threatens her to stay away from Jerry. As Kelly asks Glenn if he's signed her transfer papers, he asks her not to go and points out the love in the store just as Sandra pushes Carol and her cart into a display. At the toxic workplace meeting, Carol makes an insulting impression of Sandra. Sandra fires one back but in the course of her monologue, realizes she may have stolen Jerry from her and be part of the reason for Carol's erratic behavior. Carol still wants Jerry back so Dina and others pressure Sandra into a coin toss to decide, which she loses to Carol's delight. Sandra breaks the news of her losing the coin toss and says that he's with Carol now. Jerry says that he will always love her and he learns Carol won't let them be friends. ("Toxic Work Environment")
While listening to Glenn talk about the new automatic cart collector, she tells Jonah that she's dressed as the rear end of a horse for Halloween. Jerry was supposed to be the front end but he's in Florida with Carol. In the parking lot, she leads the automatic cart collector around using its fob while Dina, Marcus and Isaac watch. It follows her into the cart collection area and pins her there. Glenn catches Isaac, Marcus and Sandra playing with the collector, takes the fob and orders them back into the store. Trying to get Cheyenne eliminated from the costume contest, they manipulate Sandra into complaining that her hula costume is racially insensitive. She's in the Break Room for the discussion on what makes a racially sensitive costume and Cheyenne thinks that Sandra wears a coconut bra all the time. Sandra's at the costume contest. ("Costume Competition")
Sandra hears a tablet ringing and answering it, finds Dina calling who is still in the hospital. Bored, she demands Sandra carry the tablet and pursue a customer she believes is shoplifting. Sandra holds the tablet with Dina so she can rebuke Heather and Elias for minor infractions. Not satisfied, Dina tells her to get rebar, and a welding torch from Henry's locker. In the Stock Room, Sandra wears glasses and hockey helmet with a cage while grinding rebar. From the tablet, Dina yells instructions at her while Sandra yelps as sparks fly into her face. Sandra enters the store with a head frame made from the rebar, which has Dina's tablet attached to it covering Sandra's face. Sandra tries to help a customer with teas while Dina talks. However, she can't see and ends up knocking many boxes off the shelves. ("Maternity Leave")
Sandra is among the staff at the store front as Glenn and Dina explain the new Cloud 9 policy of making small talk with the customers. Dina rebukes her for wanting to customers about her demented cat. Tentatively, Sandra tells Dina that she left a drug case open which was robbed. Although Dina is angry, her grin puts Sandra at ease and the more Dina rebukes her, the more Sandra thinks it's funny. In the Break Room, Sandra is with several staff who make fun of Jonah for keeping the truth from his parents and she says Jonah is eventually going to have to tell them the truth. Later in the store as Jonah breaks the news that he works at the store to his parents, Marilyn cries and Richard falls to his knees which Sandra observes is hard to watch. ("New Initiative")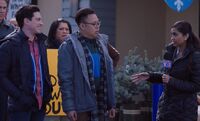 As Jonah and Mateo organize an activist group opposing Rodrigo Duterte, they invite Sandra to a meeting and note she's really lost it since losing Jerry to Carol. Sandra attends the meeting and suggests a bake sale to raise money. She's at the rally in the parking lot with the news reporter. ("Cloud 9 Academy")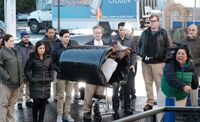 Sandra is in the Break Room as Glenn announces the steps challenge. As the staff are gathered at the scoreboard to see messages from Bel-Ridge putting their store down, Sandra suggests they start competing. Dina tells her to shut up but then retracts it. Later, Dina chases everyone sitting in the Break Room out and tells Sandra that's she's put her lunch on the roof. After the store front is spray-painted, seemingly by Bel-Ridge, Sandra snaps and throws a garbage can. Finding Sandra, Isaac and Marcus trying to fix a broken price scanner, Amy is able to convince them that Bel-Ridge is responsible for breaking the scanner and for other woes in their lives. After Amy admits to spray-painting the store, Sandra calls her a monster and thinks that Amy also trashed the Break Room. ("Steps Challenge")
During a snowstorm, Jerry arrives at the store front, having been ordered by Carol to bring him vape juice. Sandra's happiness at seeing him turns into sorrow as Carol rebukes Jerry for bringing the wrong type of juice. Hurting to see Carol constantly treat Jerry horribly, Sandra's face is so sad that Cheyenne asks to take her picture. Later at Coffee & Bakery, Sandra and Jerry catch up. As the staff sit in a circle and tell how they lost their virginity, Sandra doesn't want to tell her story and says it happened with someone in the circle while looking at Jerry. Laying next to a tent that Carol and Jerry are in, Sandra can't stand to hear Carol scolding Jerry and gets up. Dina won't let anyone move from their spot so Sandra has to lie back down and listen to Carol. For fun, Sandra put makeup on Jerry and they laugh until Carol arrives and insults Jerry and his sister. Dina catches Sandra and Jerry having sex in Glenn's Office. ("Blizzard")
Justine asks Sandra to go to an anti-Valentine's part with her and Carol. As Carol indicates that her boyfriend Jerry is working late, Dina questions why, knowing that Jerry and Sandra have been hooking up behind Carol's back. In private, Dina assures Sandra she won't tell Carol but Sandra's description of her sex with Jerry causes Dina to warn Elias that he'll need to clean up her vomit soon. Sandra tries to stop Dina's birds from flying out of the store. Sandra receives a large teddy bear with balloons and is caught by Carol and Justine. While trying to explain, Carol sees the card on the bear is from a ridiculous pseudonym. She and Justine believe that Sandra sent herself the bear but pretend it's from a legitimate valentine. At Coffee & Bakery, Carol and Justine watch with pity as a barbershop quartet sings for Sandra. Leaving for the day, Justine can't convince Sandra to come to the party and Carol makes fun of her. Behind Sandra in disguise, Jerry emerges. They both profess their hatred for Carol and kiss. ("Lovebirds")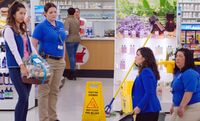 Sandra's in the Break Room for Amy's first day as manager. Mateo approaches Sandra and asks her to straighten out the linen section. She's starts to question who asked him to tell her to, but Mateo stares her down until she complies. With Dina, Amy sees Sandra having a tough time cleaning up vomit and offers to help. ("Salary")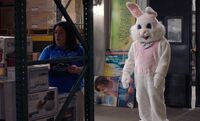 As Glenn asks who'd like to come to his church's Passion play, Sandra volunteers. When Dina sees someone dressed in a bunny costume on the monitor in the Surveillance Office, she asks Sandra if she saw the bunny but Sandra is ignorant and doesn't think the bunny is a big deal. Dina believes the person in the costume could be a threat and insists Sandra call her on the walkie if she sees it. In the Warehouse, the bunny surprises Sandra from behind and takes the costume head off to reveal Jerry. Dressed up so he can spend the day with Sandra without Carol knowing about it, Sandra leads him to the Photo Lab to have sex. On the monitors, Dina sees the bunny in the store behind Sandra. Calling her on the walkie, Sandra pretends she doesn't see it. Later, Dina worries that she's going crazy as it seems she's the only one who has seen the bunny. Seeking comfort from Sandra, she doesn't provide it and says Dina might be losing it. ("Easter")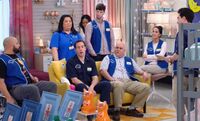 Sandra is in the Break Room as Amy announces the store's plans for Earth Day. Jonah can't get her interested in planting trees unless paid to do so. Sandra tells Amy that Pastor Craig is selling his book in the store. Cheyenne starts a "Green Team" meeting while Jonah sits on the sidelines. Asking for suggestions, Sandra, Marcus and Sayid want to tackle various issues which have nothing to do with the environment and post on social media. At Coffee & Bakery, Glenn holds a Bible study with Sandra, Earl, Sarah and Elias. When Amy stops the study, Sandra wonders about the relevance of a twenty year old movie today. Jonah starts his own environmental group up which Marcus dubs the "Green Posse" with Sandra, Earl, Heather, Ted and Roxy. ("Cloud Green")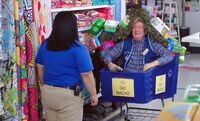 After the staff's work hours are cut back, Sandra tells Amy about her financials woes hoping to get more hours. Amy refers her to Dina who won't make any changes to the work schedule. Sandra thanks Amy for trying. Sandra is part of "Team Yogurt" in the scanner duel and is yelled at by Carol. She's knocked out of the game by Glenn who hides in a cart covered with products. From her hiding place in the dress rack, Carol sees Sandra and Jerry being intimate and realizes Jerry is cheating on her. ("Scanners")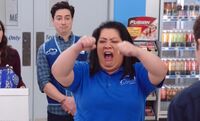 After a tweet critical of the store results in corporate giving the store more hours, Amy and Jonah secretly make more tweets. Luanne from corporate HR arrives at the store with evidence that an employee made the tweets. Carol exacts her revenge on Sandra by lying to Luanne that Sandra told her that she is the tweeter. Having been fired by Luanne, Sandra proclaims her innocence while Amy and Jonah say they'll fix things. A group of staff are waiting for Sandra and greet her enthusiastically, praising the tweets. Initially saying she isn't the culprit, she becomes seduced by everyone's adoration. Playing the part of the abused worker who's been pushed too far, she says it's time for the store to unionize while the staff chant her name. ("CLOUD9FAIL")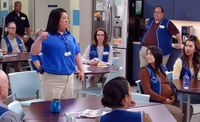 In the Break Room, Carol asks why Sandra is still at work, after being fired, which Amy explains that due to Sandra's union activities, she's been reinstated. Sandra expresses her hatred for management which Marcus applauds. Sandra hangs up "Rise Up" posters. While Sandra is handing out flyers, Amy and Jonah gently try to stop her. Telling her that corporate is viewing her activities as a threat spurs Sandra into climbing on top of a checkout counter and announcing a union meeting that evening. The union meeting is held in the store after hours where Sandra introduces labor organizer Robin Green.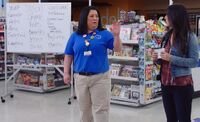 Robin lets Sandra hand out union cards and has to clear up confusion with them. Jonah continues to be negative and is accused by Sandra of being anti-union because he's sleeping with Amy. Jonah points out several realities such as retail dying and that the staff have no education. Saying their current conditions are the best most of them will ever get, it puts a damper on everyone's enthusiasm. The union meeting over, Robin isn't interested in having future contact with Sandra, who still wants to meet. As Sandra unsuccessfully tries to get Joanna to sign a union card, Jonah completes one and gives it to her. ("Sandra's Fight")
Sandra listens to Amy announce "Employee Appreciation Day." She watches the anti-union video starring MC Cool Cloud where Carol tells everyone that she knows that Sandra and Jerry are sleeping together. After ICE enters the store, in the Warehouse, trying to come up with a plan for Mateo to escape, she keeps suggesting wearing wigs. After it's decided to bring as many people in the store to try and slip Mateo out, she calls Jerry. Seeing Sandra and Jerry express their love for each other, Carol tries to get them in trouble by lying to an ICE agent that they're human traffickers. Jerry asks Sandra to marry him and she accepts. She watches Mateo being driven away by ICE agents. ("Employee Appreciation Day")
Trivia
Sandra is involved in a running gag called Shut Up Sandra! in which Dina tells her to shut up, sometimes followed by an insult. This is a homage to the Shut up Leonard! running gag from another NBC show "Community". This is detailed in the appropriate episodes, for example Magazine Profile-Running Gags.
She's also in another running gag I saw nothing in which she finds a dead mouse under shelving that she returns. This is detailed in the appropriate episodes, for example Back to Work-Running Gags.
She has highly superior autobiographical memory which means she remembers everything that happens to her. ("Olympics")
If she thinks about vomiting, she will throw up. ("Guns, Pills, and Birds")
Mateo tells Jonah that Sandra's YouTube channel is so sad. Sandra mentions her first apartment was in a pet cemetery. ("Brett Is Dead")
Sandra's health issues include: asthma, rheumatoid arthritis, sciatica, fibromyalgia, leaky gut syndrome and gout. ("Health Fund")
She's terrified of heights. ("Safety Training")
Sandra is the only floor worker that wears a polo instead of a vest. It's revealed in "Sandra's Fight" that the polo was given to her as compensation from corporate for getting injuries on the job (instead of paying for her medical bills).
Quotes
"I'd like to meet your mother and shove you back up inside her."— Dina to Sandra, "Easter".
Gallery
Community content is available under
CC-BY-SA
unless otherwise noted.