What the hell, Amy?

Sayid is a sales associate at Cloud 9 Store 1217 who is a refugee from Syria. He is portrayed by actor Amir M. Korangy.
Character History
Sayid is disappointed to not be initially invited to Amy's baby shower but Amy points out he's only been working at the store for two days. Later, he's at the shower and watches anxiously as Amy tastes expired baby food. His gift to Amy is a piece of wood with "Amiee" written on it but he explains it isn't his fault as he just met Amy. ("Baby Shower") As Amy lies to Dina that she and Jonah are carpooling, Dina tells Sayid. He calls out "carpool karaoke" which Justine just suggested. ("Toxic Work Environment") He wears lederhosen for Halloween and Amy tries to get him to take offence to Chris wearing an Aladdin costume. ("Costume Competition")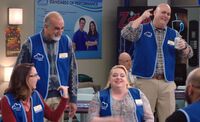 Sayid's in the Break Room as Garrett discusses what to write in the cards for Amy and Dina's babies. When Garrett falsely accuses Carol of writing an offensive message in the card, Sayid rebukes her. He suggests a benign message which Justine doesn't agree with since she says she's sleeping with a lot of the staff. ("Delivery Day")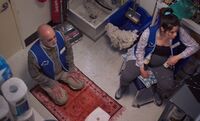 As Amy pumps her breasts in the utility room, Sayid interrupts to pray and insists that it can't wait. Later, Sayid complains about the noise Amy's breast pump makes and compares it to a jet engine. After Amy yells at Glenn and is expressing regret for her behaviour to Jonah, Sayid walks by with his prayer rug and tells Amy it's time for her to pump her breasts. ("Maternity Leave") Sayid's in the Break Room as a number of the staff say how they're lying to their parents. After Amy and Jonah tell some of the staff that they're dating, they care more about a pen Sayid has lost. ("New Initiative")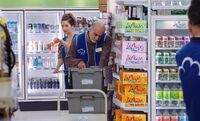 After Glenn announces an issue with Sayid's immigration status, Mateo, who is undocumented, becomes very nervous. Glenn feels bad that he didn't know Sayid is a Syrian refugee. He's then asked about the conditions in Syria, his opinion of the movie "Syriana" and is given a round of applause. Mateo complains to Cheyenne about the special treatment being afforded Sayid and that he should receive it since he's undocumented. Sayid passes by just as Mateo mentions his status causing Cheyenne to wonder if he overheard and will tell Glenn or Dina. Cheyenne asks Sayid if he had any harrowing experiences in Syria as an excuse to test his hearing. Finding Sayid hears well, she indicates to Mateo he might have overheard his status.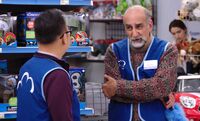 Talking to Sayid about to his immigration status, Mateo mistakenly mentions he's undocumented. Backtracking, he says he's in the country legally and was sworn in by the president which Sayid finds hard to believe. After Mateo spreads rumors that Sayid is a liar, Sayid confronts him and Mateo explains it's due to Sayid hearing about his undocumented status. Sayid doesn't care until Mateo accidentally suggests Sayid might be deported if he hides Mateo's secret. Reading that Sayid intends to tell Glenn, Mateo starts following him. Later in Glenn's Office, Glenn tells Mateo that Sayid reported his undocumented status. ("Managers' Conference")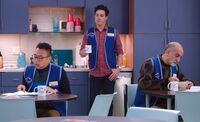 In the Break Room, Mateo complains about the difficulties of applying for asylum in the US, while Sayid points out applying to be a refugee is even harder. After Jonah and Mateo organize a rally against Rodrigo Duterte which is attended by a news reporter, Sayid tells Mateo that he'd never be seen on TV critisizing his country's government as he'd be tortured and killed if deported. ("Cloud 9 Academy") Sayid is in the Break Room as Glenn announces the steps challenge and later when competing with the rest of the staff, tells Amy that Marcus gave him six energy drinks. He views the vandalism on the store front, seemingly made by the Bel-Ridge store, and says "let's end those sons of bitches!" Sayid and Marcus turn on a customer trying to return a blender when they discover he bought it at Bel-Ridge. When Amy admits to the vandalism, Sayid tells her she's sick. ("Steps Challenge")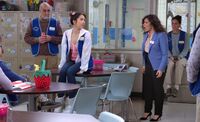 Sayid is in the Break Room for Amy's first day as manager and later, Amy gives him two breaks. Sayid questions Mateo's authority when he tries to assign staff work. He's astonished when Amy gets a luxury company car. ("Salary") After Amy uses the monitors in the Surveillance Office to spy on the staff in the Break Room, she tries to fix their criticisms of her by acting differently. Confused about her odd behaviour, Sayid won't stop replying to Amy's "thank yous." As the staff discuss Amy's behaviour in the Break Room, Sayid realizes Jonah isn't comfortable with them making fun of her. After Amy is caught spying, Sayid wonders who says nice things about people behind their backs. He's in the group of staff Amy apologizes to when Cheyenne sends Mateo a text about Amy. When Mateo smashes his phone so Amy can't see the text, Sayid says Mateo should have got a case for it. ("Easter")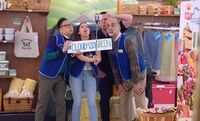 Sayid's in the Break Room as Amy announces the store's plans for Earth Day. He complains about several green measures Jonah has taken which results in Cheyenne taking over being the store's green ambassador from Jonah. Cheyenne starts a "Green Team" meeting while Jonah sits on the sidelines. Asking for suggestions, Sandra, Marcus and Sayid want to tackle various issues which have nothing to do with the environment and post on social media. Watching Cheyenne, Mateo, Marcus and Sayid take pictures to post on social media, Jonah points out they're not doing anything to help the environment. ("Cloud Green") He's on Garrett's "Team Yogurt" for the scanner duel and knocks Earl out of the game. ("Scanners")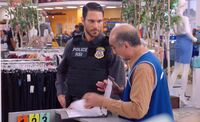 In Break Room, discussion of unions involving Marcus, Justine, Sayid and others results in Dina shutting down the room. At the union meeting with Robin Green, Sayid gives a good word association to "union." ("Sandra's Fight") Sayid listens to Amy announce "Employee Appreciation Day" and watches Dina accidentally smash the holographic Myrtle with a t-shirt cannon. He watches the anti-union video starring MC Cool Cloud and later, when ICE agents arrive at the store, he shows an agent overwhelming proof of his refugee status. In the Warehouse, he describes what it took for him to arrive in the US. He watches Mateo being driven away by ICE agents. ("Employee Appreciation Day")
Trivia
Community content is available under
CC-BY-SA
unless otherwise noted.