Oh, yeah, no, happens all the time. Someone flies a drone into my head.

Shannon is a visitor to Cloud 9 Store 1217. She is suspected by Jonah and Dina of being a shoplifter. She is portrayed by actress Andree Vermeulen.
Character History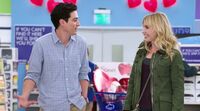 Shannon is spotted by Jonah in the store and he believes he recognizes her as a shoplifting suspect. With Dina's help, he goes undercover and spies on her. After accidentally hitting her in the head with a drone, Shannon and Jonah hit it off. Jonah asks Shannon out and she accepts. Jonah goes to Dina in the Surveillance Office and reports that she isn't the shoplifter. Dina knows this is because Jonah is attracted to her. As Shannon and Jonah are leaving the store for their date, Dina interrupts them, pretending to be Jonah's wife. She argues with Jonah and Shannon leaves. ("Valentine's Day")
Community content is available under
CC-BY-SA
unless otherwise noted.