"Shots and Salsa" is the third episode of Season One of Superstore, and the third episode of the show overall.
Summary
Amy interfers with Carmen's salsa sales, Jonah works in the Pharmacy, staff deal with an indecisive shopper.
Plot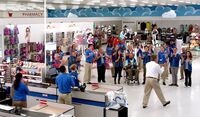 Before the store opens, Glenn is leading the staff in several long moral-building cheers at the store front. Cheers done, he asks for a volunteer to man a sample booth for "Señor Cloud" salsa. Mateo volunteers but after Glenn finds out he is Filipino, he asks Amy. She believes Glenn asked her because she is Latina and refuses so Glenn picks another Latina, Carmen who says she'll do it. Garrett announces over the P.A. system the salsa samples and free flu shots at the Pharmacy. Carmen is affecting a Mexican accent at the booth and doing brisk business. Amy resents the accent and wants to stop Carmen. Garrett tells her and Jonah that the staff at the store are "quicksand" and it's best to mind one's own business.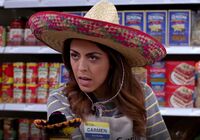 Jonah believes that he is a helpful person and to demonstrate, offers to help Tate the pharmacist carry some flu shot boxes. Tate takes full advantage and tells Jonah to retrieve more boxes while he gets a coffee. Mateo is helping customer Larry who has many questions on toothbrushes. At the Pharmacy, Tate is bragging to Jonah, makes him his assistant and tells him to prep the first patient. A customer dumps many clothes in front of Brett at the dressing rooms. (♫ Bill Medley and Jennifer Warnes - (I've Had) The Time of My Life ♫) At the booth, Amy talks to Carmen about the accent, suggesting some might find it offensive. Things come to a head when Carmen is serving a customer. Amy demands she speak without the accent, they struggle over the salsa bowl and Carmen slips and twists her ankle (and curses without the accent). Brett cleans up the split salsa and sighs. (♫ Loverboy - Working for the Weekend ♫)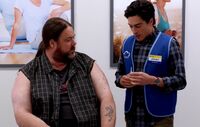 Glenn and Dina take Carmen to Glenn's car to take her to the hospital. Amy still refuses to man the booth. At the Pharmacy, a customer wants Tate to ring up many items. Frustrated, Tate leaves and tells Jonah to give a biker his flu shot. Larry asks Amy for help with toothbrushes. Hearing a Mexican accent she heads for the booth and Larry asks Elias for help. At the booth, she finds Mateo selling well and try as he might, he can't stop speaking with the accent. Jonah sterilizes the arm of the biker and with shaking hands, tries to give him the shot. The biker yells at him and is then seen running out, holding his arm and crying. An elderly woman in the line-up asks Jonah how much longer the wait will be. He brings her to the front of the line and when other customers protest, she makes a racist remark.
To show Mateo how offensive his accent is, Amy affects an Asian accent just as an Asian family walks by. In the Break Room, the staff are watching a training video on racism starring Corporate Woman. Larry asks for more help with toothbrushes. (♫ Original Cartel - Push It ♫) After the video is done, Amy tries to explain she was not being racist but trying to demonstrate racism. Jonah also explains he helped the elderly lady not because she was white, but because she was old. Sandra tries to complain about Sal sexually harassing her but Dina shuts her up and says they aren't going to watch another video. Glenn gets Amy to work the salsa booth. (♫ El Puente ♫)
Amy tries selling the salsa without an accent but the customers ignore her. Dina says customers need to think the salsa is authentic. Dina does an accent and mentions the salsa is for charity which Amy didn't know. Amy still thinks her dignity is worth more than charity until Dina shows her the salsa labels. The charity is for disabled orphan children in Mexico which makes Amy feel guilty. Glenn is now helping Larry choose a toothbrush and they examine each other's mouths for tartar. No customers are taking samples so Amy finally relents and speaks with an accent. At the Pharmacy, there's only one flu shot left and many customers so Tate abandons Jonah. Amy is now doing brisk business and is joined by Mateo who also speak with an accent.
Jonah tells the customers at the Pharmacy there's only one flu shot left and they begin to argue over which of them is the most deserving. Amy and Mateo have now embraced the role fully and are dancing while Dina plays guitar and Glenn claps. Carmen has returned from the hospital on crutches and looks at Amy angrily. His shift over, Jonah backs away from the angry Pharmacy customers and leaves. He passes by the salsa booth where Dina is playing guitar and singing. (♫ Lila Downs - La Llorona ♫) Dina looks at Jonah lovingly as he walks past. In the parking lot, Amy is sitting at a patio set eating salsa and chips and is joined by Jonah. Larry walks out of the store and shows his kids, who have been waiting in the car the whole time, his new toothbrush.
Cast
Main cast
Featured cast
See also
Also see Season One minor employees.
Running Gags
Amy's name tag: Amy wears a different name tag in every episode. For this one it's "Beatrice". Mateo wears a "Jose" name tag.
Crazy Customers and music: For all customer interludes and music see Shots and Salsa (music).
Glenn's tie: Realistic clouds.
References
Trivia
Quotes
"I was hoping to learn about racism from a white lady."— Garrett
Gallery
v

•

e
Superstore Season One Episodes
  
"Shots and Salsa"
December 28, 2015
Directed by: Ruben Fleischer - Written by: Justin Spitzer

Various staff man a salsa booth which leads to racial sensitivity training. Jonah helps at the Pharmacy. (Viewers: 2.62 million)
  
"Shoplifter"
January 11, 2016
Directed by: Ruben Fleischer - Written by: Jackie Clarke

Dina tracks a shoplifter, Amy brings her daughter Emma to work even though it isn't allowed so Jonah helps out. (Viewers: 5.38 million)
  
"Secret Shopper"
January 18, 2016
Directed by: Alex Hardcastle - Written by: Lon Zimmet

Amy feels competitive when Glenn publicly congratulates Jonah on his superb employee test results. Cloud 9 employees are on their best behavior in anticipation of a secret shopper. (Viewers: 5.66 million)
  
"Color Wars"
January 25, 2016
Directed by: Andy Ackerman - Written by: Jack Kukoda

The store is divided into two sales teams competing for $100 each, Jonah meets Amy's husband Adam. (Viewers: 4.93 million)
  
"All-Nighter"
February 8, 2016
Directed by: Christine Gernon - Written by: Eric Ledgin

After working overtime to put up new signs, the staff are locked in the store. They find unique ways to amuse themselves and bond in the process. (Viewers: 5.19 million)
  
"Demotion"
February 15, 2016
Directed by: Linda Mendoza - Written by: Matt Hubbard and Lon Zimmet

Dina asks for a demotion in order to date Jonah, Amy and Glenn deal with finding a replacement. (Viewers: 3.09 million)
  
"Labor"
February 22, 2016
Directed by: Beth McCarthy-Miller - Written by: Owen Ellickson

Cheyenne is having her baby in the store but won't stop working because Cloud 9 doesn't offer paid maternity leave. To help her Jonah proposes a walkout. (Viewers: 4.68 million)
Community content is available under
CC-BY-SA
unless otherwise noted.