I just got sexually harassed.

Sue is an employee at Cloud 9 Store 1217. She is a temporary seasonal worker. She is lazy and self-absorbed. She is portrayed by actress Carrie Gibson.
Character History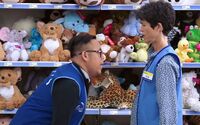 Sue is first seen in the Break Room as manager Glenn welcomes all the temporary seasonal workers to the store. Sue is supposed to be helping Cheyenne at cash by bagging but instead, she reads a book. Jonah and Garrett devise a betting pool to see which temp worker will quit first. Cheyenne and Mateo both pick Sue. Mateo sees Garrett actively trying to get the temp he is betting on (Nick) to quit so he does the same by looking at Sue's breasts and blowing raspberries. Sue runs to Cheyenne to complain that she's been sexually harassed. Cheyenne sympathizes and then grabs Sue's butt. Sue runs away. ("Seasonal Help")
Community content is available under
CC-BY-SA
unless otherwise noted.