"Super Hot Store" is the fifteenth episode of Season Two of Superstore, and the twenty-sixth episode of the show overall.
Summary
A heater malfunction results in a war between Amy and Marcus, Dina and Garrett get close.
Plot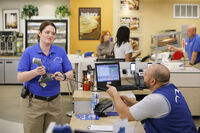 On a cold winter's day, the store's heating malfunctions so it is incredibly hot. Garrett is giving announcements on the P.A. system and warns the customers that if they complain to him about the heat, he's gonna murder them. Dina argues with Garrett about his lack of professionalism until Amy breaks it up. In Glenn's Office, Glenn is on the phone trying to get corporate to address the heating problem as they control the store's systems. Corporate says their computers say the temperature is fine. Glenn complains and they put him on hold. In the store, Amy finds a pallet of yogurt leaking on the floor. She asks the new Warehouse supervisor Marcus if he can deal with it. Garrett enters Glenn's office to see how he's progressing fixing the heat problem. Glenn has turned on the AC in his office and Garrett notices how cool it is. He convinces Glenn to fix the problem on his own and Glenn leaves.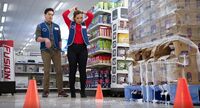 As Amy helps Dennis with his pants in the dressing rooms, Jonah brings in a customer who slipped on the leaking yogurt. Amy leaves to deal with it. Dina finds Garrett in Glenn's office and stays to enjoy the cold. Amy and Jonah enter the Warehouse to find out why Marcus didn't deal with the spill. His staff are really hot so Amy says she'll get one of her people to deal with it. As she's leaving, Marcus calls her a sourpuss and tells her to smile more which angers her. Amy announces on the P.A. system that the Warehouse staff are responsible for cleaning the spill. Mateo wants to clean up the spill but Amy forbids it. Jonah points out to Amy that the heat may be affecting people's judgment but she won't relent. Glenn and Cheyenne venture onto the store's roof to fix the heating problem. Cheyenne admires Glenn's handyman skills.
Dina and Garrett are enjoying the cool air in Glenn's office but get on each other's nerves until Garrett suggests they have sex. In the Warehouse, Jonah mediates the dispute between Amy and Marcus. Marcus apologies but calls women sensitive. Things escalate until Amy fires Marcus. Jonah points out both sides made mistakes but when Marcus puts Jonah down, he sides with Amy in firing Marcus. The Warehouse crew walks out to protest Marcus being fired leaving Amy's crew to unload a truck. Jonah reads the manual to unload but no one understands it. Brett opens the store's front doors to cool off. (♫ Jermaine Stewart - We Don't Have to Take Our Clothes Off ♫) Dina and Garrett finish having sex when Mateo knocks on the door asking for Glenn. Behind the closed door, they keep silent while Mateo reports that Jonah and Amy are going "cray-cray".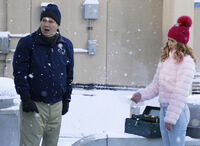 On the roof, Glenn and Cheyenne look at the complex control circuitry. Glenn tries using the interface but changes the language. At the loading dock, Amy's crew is making slow progress. Sandra gets trapped behind a wall of boxes with the scanner and breaks it, slowing things down further. Brett and security guard Sam open the front doors to cool off. (♫ Kool & the Gang - Fresh ♫) On the roof, Glenn is discouraged he failed to fix the heating problem. Cheyenne tries to cheer him up but fails. Glenn pronounces himself useless. Bored again, Dina and Garrett pass the time by having sex again. Amy is walking backwards carrying a large box with Jonah, slips and flies down a loading roller and hurts her arm. Dennis exits the dressing rooms and yells for help with his pants.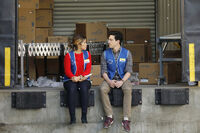 Amy and Jonah sit outside on loading bay. As they talk, both start feeling like themselves again and remember they fired Marcus. Cheyenne and Glenn talk about their mutual desire to travel and Glenn suggests they both just leave and go together. Cheyenne talks about her responsibilities but relents to cheer Glenn up. Dina and Garrett finish their second bout of sex when corporate takes Glenn's phone off hold. Dina fakes Glenn's voice as corporate reports the heating problem was caused by their computer and is now fixed. Dina and Garrett agree that they'll have sex but no relationship. At Coffee & Bakery, Amy and Jonah try to figure out how to get Marcus back when he returns and apologizes, blaming the heat. Amy cancels the firing and "warns" him. Back in the store, Glenn is talking about where he and Cheyenne will travel when she points out the store is cool and that Glenn must have fixed the problem. He feels useful again and slips in the spilt yogurt.
Cast
Main cast
Featured cast
See also
Also see Season Two minor employees.
Running Gags
References
Trivia
Quotes
"But yeah, the Sturgises have always been builders. In fact, my ancestors built the ships that brought the very first African-Americans to this country."— Glenn
Gallery
Video
v

•

e
Superstore Season Two Episodes
  
"Olympics"
August 19, 2016
Directed by: Ruben Fleischer - Written by: Jonathan Green

Amy gets the opportunity to meet her childhood idol; Glenn struggles to balance his excessive patriotism; Jonah discovers a secret about Mateo's past; Dina works to create a memorable closing ceremony. (Viewers: 9.67 million)
  
"Strike"
September 22, 2016
Directed by: Victor Nelli, Jr - Written by: Jackie Clarke

A full-fledged strike ensues when a group of Cloud 9 employees walk off the job to protest the firing of Glenn. Jonah tries to help Amy negotiate with corporate; Garrett meets a gorgeous woman on the picket line. (Viewers: 5.45 million)
  
"Back to Work"
September 29, 2016
Directed by: Michael McDonald - Written by: Eric Ledgin

A workplace accident threatens Amy's plan to impress the district manager; Glenn tries to come off as a strict boss; Jonah tries to help Dina win over the co-workers she betrayed in the strike. (Viewers: 4.39 million)
  
"Guns, Pills, and Birds"
October 6, 2016
Directed by: Matt Sohn - Written by: Matt Hubbard

Jonah is assigned to the gun section of the store and refuses to sell to anyone he deems suspicious. Glenn tries to buy the store's entire stock of morning-after pills. (Viewers: 5.18 million)
  
"Spokesman Scandal"
October 13, 2016
Directed by: Ken Whittingham - Written by: Gabe Miller

When the company's spokesperson is accused of a crime, Glenn begins to worry he should know more about his employees; Amy and Jonah challenge each other to a series of dares; Cheyenne annoys Garrett and Sandra with her baby talk. (Viewers: 4.39 million)
  
"Dog Adoption Day"
October 20, 2016
Directed by: Betsy Thomas - Written by: Josh Malmuth

Cheyenne and Bo fight, prompting Amy and Glenn to give them advice in very different forms; Mateo and Jonah oversee dog adoption at the store; Garrett taunts Dina when she refuses to adjust his time card. (Viewers: 4.18 million)
  
"Halloween Theft"
October 27, 2016
Directed by: Alisa Statman - Written by: Karey Dornetto

After an apparent theft, Dina launches a store-wide investigation interrupting everyone's Halloween plans; Jonah and Cheyenne attempt to bond; Garrett tries to defend himself in Dina's theft probe. (Viewers: 4.21 million)
  
"Seasonal Help"
November 10, 2016
Directed by: Geeta V. Patel - Written by: Jackie Clarke

Glenn hires Amy's husband, Adam for extra help during the holidays; Jonah and Garrett grow frustrated with the seasonal temps; Glenn looks for the perfect store Santa. (Viewers: 5.19 million)
  
"Black Friday"
November 10, 2016
Directed by: Victor Nelli, Jr - Written by: Eric Ledgin

The staff comes down with food poisoning; Jonah documents the day with home video; Glenn's disposition changes; Mateo and Cheyenne discover a lucrative Black Friday side business. (Viewers: 3.79 million)
  
"Lost and Found"
January 5, 2017
Directed by: Jay Chandrasekhar - Written by: Sierra Teller Ornelas

Amy walks away with a huge wad of cash from the lost and found bin and is pressured to spend the money various ways; Dina and Garrett deal with their fling; Glenn tries to stave off staff depression. (Viewers: 4.43 million)
  
"Rebranding"
January 12, 2017
Directed by: Bill Purple - Written by: Matt Hubbard

VP Rex brings a rebranding and is part of Jonah's past, Dina hunts a snitch, Cheyenne hides discounted products. (Viewers: 4.33 million)
  
"Ladies' Lunch"
February 2, 2017
Directed by: Todd Biermann - Written by: Vanessa Ramos

Glenn accidentally tells the employees the real reason Amy has been late to work lately. Meanwhile, Dina tries to cheer up Amy by kidnapping her for a "ladies' lunch". Jonah and Garrett invent a game to pass the time, tricking Glenn and Mateo in the process. Cheyenne helps Amy take a fearless step with a dramatic new look. (Viewers: 3.99 million)
  
"Valentine's Day"
February 9, 2017
Directed by: Tristram Shapeero - Written by: John Kazlauskas

A well-intentioned Amy and Glenn get caught up in the Valentine's Day spirit, quickly learning what happens when you try and force love. Meanwhile, Jonah goes undercover to try and catch a serial shoplifter and ends up getting closer to her than Dina would like; Mateo begins to unravel as Sandra's relationship with Jeff takes a new turn. (Viewers: 3.54 million)
  
"Super Hot Store"
February 16, 2017
Directed by: Michael Spiller - Written by: Joe Barrasas

A store-wide heater malfunction magnifies angry tensions between Amy, Jonah and the Warehouse employees after both sides refuse to clean up a spill; Dina and Garrett get close. (Viewers: 3.67 million)
  
"Wellness Fair"
February 23, 2017
Directed by: Alex Reid - Written by: Owen Ellickson

Amy sees Mateo out on a secret date with Jeff; Glenn resents Jonah for outshining him on the store's Wellness Fair; Dina tries to prove Amy faked being sick; many relationship secrets are revealed. (Viewers: 3.51 million)
  
"Integrity Award"
March 16, 2017
Directed by: Linda Mendoza - Written by: Gabe Miller

Jonah accompanies Amy on a trip to help her mom and dad move out of her childhood home. Glenn desperately wants to win the new Cloud 9 Integrity Award but starts to worry that Garrett has a better chance of winning. Dina tries to take advantage of Mateo's relationship with Jeff to fix problems in the store and Cheyenne gets caught up in Glenn's self-serving campaign. (Viewers: 4.17 million)
  
"Mateo's Last Day"
March 23, 2017
Directed by: America Ferrera - Written by: Jonathan Green

When Mateo faces complications with his transfer to a Cloud 9 Signature store, he becomes desperate to resolve his undocumented status. Amy helps Glenn battle an Internet troll, Jonah and Cheyenne try to give Mateo legal counsel, and Dina and Garrett take issue with corporate over their relationship. (Viewers: 4.15 million)
  
"Glenn's Kids"
April 6, 2017
Directed by: Ruben Fleischer - Written by: Sierra Teller Ornelas

Glenn invites all of his kids to the store causing disorder among the employees. Jonah develops a romantic interest in Glenn's 25-year-old daughter, and Amy gets caught in the middle. Garrett, Dina and Cheyenne struggle to keep track of one of the toddlers and Mateo tricks the kids into working for him as he grapples with life after Jeff. (Viewers: 3.08 million)
  
"Spring Cleaning"
April 20, 2017
Directed by: Geeta V. Patel - Written by: Josh Malmuth

Amy and Garrett embark on an investigation as they sift through abandoned photos during the store's spring cleaning. Jonah goes out of his way to befriend Glenn in hopes of gaining his approval in dating his daughter. Cheyenne's fiancé Bo starts working at the store for some fast cash, taking advantage of Dina and Mateo's store knowledge. (Viewers: 3.15 million)
  
"Cheyenne's Wedding"
April 27, 2017
Directed by: Michael Weaver - Written by: Vanessa Ramos, Bridget Kyle, Vicky Luu

It's Cheyenne and Bo's dream wedding, but not everything goes according to plan. Relationships unravel as Amy and Jonah confront their feelings. Glenn tries to change Jeff's mind after learning of upcoming layoffs, Dina talks her way into the wedding party and Mateo dodges Jeff throughout the wedding. (Viewers: 2.77 million)
  
"Tornado"
May 4, 2017
Directed by: Matt Sohn - Written by: Justin Spitzer

Everyone in the store is on edge as Glenn tries to figure out which employees to lay off. Jonah struggles with the fallout of an admission he made to Amy, Garrett and Dina spar, and Mateo forms alliances to keep his job. A tornado warning goes into effect at the worst possible time, forcing the staff into uncomfortable groups. (Viewers: 2.91 million)