Do me a kindness Glenn and look at my penis.

Tate Staskiewicz was a pharmacist who runs the Pharmacy at Cloud 9 Store 1217. He is an extreme egotist, is judgemental, unprofessional and makes the most money of any employee in the store. He is portrayed by actor Josh Lawson.
Character History
Tate takes full advantage of Jonah's offer to carry flu shots boxes and makes Jonah his assistant for a day when the pharmacy is giving free flu shots. He shirks his duties and makes Jonah perform them while bragging about himself. Later in the day, there's only one flu shot left and many customers so Tate abandons Jonah and leaves him to decide who should get the shot. ("Shots and Salsa")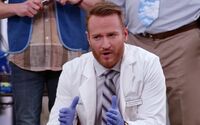 Tate interviews for assistant manager as he says he's stressed out working at the pharmacy. He makes wildly unreasonable demands and tries to control the interview. ("Demotion"). When Cheyenne goes into labor, Tate acts like he is going to deliver the baby. He checks what medications Cheyenne has taken. Cheyenne indicates an antacid so Tate says that's OK and walks away. When Amy asks if he going to do anything more, he says he's a pharmacist, not a doctor and delivering a baby would be gross. ("Labor")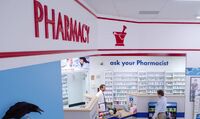 When Glenn learns that the Pharmacy sells the morning after pill, he tries to get Tate to stop selling them. Glenn checks if Tate has a moral objection but Tate loves the pill. He keeps a box at his time share in Tampa Bay. Later, as he is trying to sell the pill to a young couple, Glenn tries to guilt them by showing pictures of his kids and then cuts in front of them and buys all the pills. When Glenn finds out how expensive they are and tries to return them, Tate won't accept them back. ("Guns, Pills, and Birds")
Glenn is stressed due to the pressure of Black Friday and asks Tate for advice on taking some anti-anxiety medication. He learns Tate is writing a screen play that is very similar to the movie "Unlimited". Amy asks for a pregnancy test kit. ("Black Friday") Due to the prevalence of seasonal depression, Glenn asks Tate for advice and learns many of the employees are on medication for depression. In the made-over Break Room, Tate hogs the relaxation chair and Amy threatened to pull him out by his hair plugs. ("Lost and Found") Amy and Garrett are trying to find the owner of unclaimed photos who they think was an employee, they ask Tate if he recognizes the woman in the photos. Tate tells them many details of the psychotic drugs that Carol is on. ("Spring Cleaning")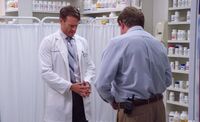 At the Pharmacy, Mateo asks Tate for meds without doctor's authorization to which Tate indignantly refuses. He then beckons Mateo to a side counter where there is a blind spot from the store's cameras and asks him what he wants. Tate pulls out a pill stash, samples one himself, retrieves antibiotics for Mateo and arranges for payment. Glenn has Tate examine the mole on his penis but Tate also drops his pants and won't examine Glenn until he looks at his penis. Reluctantly, Glenn does look and is shocked by what he sees. After Isaac jumps on a table in the Break Room and it collapses, flinging him into the glass of a vending machine, Tate uses super glue to seal his cuts but Tate's surgical glove becomes glued to Isaac's face. ("Health Fund")
Tate treats Amy's groundhog bite while Cheyenne gives Amy kudos for Devon flirting with her. Amy mentions some of her activities which leads Tate to conclude she is boring. Tate is in the Break Room as Mateo gives Amy "gay man tough love". Cheyenne rates Tate a "10" due to his good job and abs. Tate asks Amy out to a bar and feeling low, she accepts. Next, they're both seen making out and drinking heavily at the bar. The next day, as Amy enters the store, Tate approaches her enthusiastically which Amy does not reciprocate. He's very happy about their night together while Amy wants to keep it a secret. Tate approaches Amy at electronics and asks her out again. Amy says no and admits that she went out with Tate because she was feeling down and that going out with a "10" would improve things. Tate is indignant and loudly expresses that he feels used. Staff and customers hear the exchange and Tate compares himself to a human vibrator. ("Groundhog Day") Amy tells Cheyenne and Dina she didn't have sex with Tate. ("Gender Reveal")
Trivia
Gallery
Community content is available under
CC-BY-SA
unless otherwise noted.