Pathetic man. Muppet voice.

Tim is a visitor to Cloud 9 Store 1217. He is an internet troll who wrote a bad review of the store. He is portrayed by actor Neil Casey.
Character History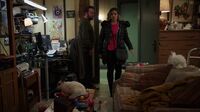 After Tim gives Cloud 9 Store 1217 a poor review on Yelp!, Glenn invites him to the store for a tour. After being extremely nice to Tim and receiving an apology, Glenn is shocked to find another poor review. This repeats several times so Amy goes to Tim's Apartment to confront him. Tim's place is small, old and filled with hoarded items such as stacks of newspaper. He lives with his mother who has respiratory problems and she likes watching "Quantum Leap" videos. There are rabbits living loose in the apartment. After Amy and Tim talk about the problems in their lives, Tim asks to be friends. However, he later posts another bad review of the store and makes fun of Amy. ("Mateo's Last Day")
Community content is available under
CC-BY-SA
unless otherwise noted.