"Town Hall" is the twenty-second episode of Season Three of Superstore, and the fifty-fourth episode of the show overall.
Summary
As the store prepares to host a company-wide Town Hall meeting, Amy and Jonah are forced to put their conflicts aside and rally their co-workers to confront the CEO. Glenn struggles with the pressure of speaking to a global audience.
Plot
Garrett recites his rules for dating and living with co-workers to Jonah while they watch Kelly dump Jonah's clothes on the store floor which Brett rummages through. Jonah asks if he can move back in with Garrett. In the Break Room, Laurie goes over the agenda for the town hall which includes Glenn speaking and live streaming to every Cloud 9 store in the world which concerns Glenn. She also goes over forbidden topics which Jonah objects to and is burned by Kelly for dumping her. Amy asks why Myrtle can't be asked about at the town hall and Laurie's response leaves everyone suspicious that something is being withheld as to why Myrtle was fired. As the staff set up for the town hall, Amy catches Jonah in Glenn's Office looking for Myrtle's employee file. Brett stocks items while wearing a t-shirt from Jonah's bar mitzvah. (♫ Madonna - Borderline ♫)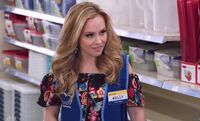 Garrett catches Glenn worrying about speaking at the town hall and wolfing down antacids. As they do the math on how many people could be watching, Glenn's anxiety increases. Amy and Jonah discover that after 30 years with no disciplinary notes in her file, Myrtle was written up many times in the 6 months by Jeff before she was fired. There is tension between them as they both plan to question Jeff. As they stock a shelf, Carol gives her sympathies to Kelly for Jonah dumping her. Carol suggests several dirty ways to get back at Jonah but turning the tables, Kelly suggests retributions that are much stronger which scares Carol into leaving. Amy and Jonah talk to Jeff in his car which he's using for ride sharing. He reveals that Cloud 9 came up with a policy to falsely write-up any employee over the age of 70 as a pretext for firing them in order to save money. He offers to help with the situation which Amy takes him up on.
In the Warehouse, Amy and Jonah share their discovery with a number of staff. They plan to have Jeff reveal the ageism policy at the town hall and steal Laurie's phone to retrieve an incriminating email on the policy from it. Dina is skeptical that Jeff is key to the plan and Garrett pokes holes in their plan including asking how Jeff will be snuck into the town hall. Marcus insults Myrtle not realizing she's listening on speaker phone. Elias can't free himself from a crowd barrier tape. (♫ Taco - Puttin' On the Ritz ♫) At the loading dock, Dina and Sandra hide Jeff in a packing box. Dina tells Sandra to use the forklift to sneak Jeff into the store through the Warehouse while she distracts the guard. However, Sandra doesn't know how to drive the forklift but since Dina doesn't believe Sandra can distract the guard, she's stuck with the task.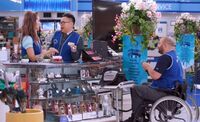 At Coffee & Bakery, Amy distracts Laurie by asking if she's a lesbian while Jonah searches through Laurie's bag for her phone. Amy mentions several prospects for Laurie to which Laurie says nothing until Jonah finds the phone. In the Warehouse, Dina distracts the guard while Sandra has difficulty driving the forklift. She drops the box containing Jeff and has to kick and push it through the Warehouse. Cheyenne and Mateo makes plans to disguise Jeff to sneak him into the town hall while Garrett rigs up a hidden camera which is patched into the Cloud 9 camera feed so if the Cloud 9 camera is turned off, they'll still have a camera running. He hides the camera in a flower stand on stage. Amy and Jonah start looking through emails on Laurie's phone. Laurie introduces Glenn to Neil, Cloud 9's CEO. Glenn is extremely nervous and stammers inappropriate comments on an employee at the store who is also named Glenn.
Jeff is disguised as an employee with a long shaggy beard, hair and glasses. Dina says the incriminating email will be delivered to him during the town hall. The town hall starts with Neil introducing Glenn and is seen in Cloud 9 stores around the world. Glenn joins Neil on stage but as he launches into his speech, a fart is heard. Total silence envelopes the town hall while the staff stifle laughs and the global viewers watch. Neil takes the mic from Glenn who blames the fart on Neil. They argue about who is the culprit is until Neil dismisses Glenn from the stage. Amy and Jonah find the email on downsizing legacy employees and print it off. Neil fields questions beginning with Marcus asking how Cloud 9 decides on selling new products and telling Neil about boob cheese. Amy and Jonah try to get into the town hall but Laurie won't let them walk in front of the camera. Neil can't believe Marcus is selling human cheese but Marcus takes Neil's reaction as a go to sell it at Cloud 9. Amy whispers to Jonah they can use the store's tunnels to get into the town hall and they leave.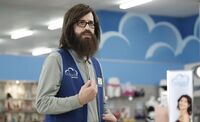 Neil answers a question from Gary and starts wrapping up until Dina interrupts and stalls for time. Garrett texts Amy and Jonah to hurry so they start through the store's tunnels. Dina sings, tells stories until Amy and Jonah arrive and give the email to Jeff. Jeff runs to the mic, removes his disguise and announces himself but Neil doesn't know who he is. Jeff wants to talk about Myrtle but Laurie subtly informs Neil that Myrtle was an experienced employee let go due to performance issues. Jeff contradicts this but Neil interrupts him and offers him a job at the Cloud 9 HQ. Jeff caves and lies that Myrtle was let go because she was a gang member. The town hall over, Amy and Jonah bring items including the flower stand with the hidden camera to the Photo Lab and complain about their management's corruptness. Amy can't believe she was naive enough to believe they'd get justice but Jonah thinks things will work out much to Amy's annoyance.
Now in a suit and cleaned up, Jeff approaches the staff and tries to convince them that his promotion is a good thing for everyone as they now have a man on the "inside top". Cheyenne asks if he'll get Myrtle her job back but Jeff is evasive. The staff look at him with disgust and Mateo rebuffs Jeff's kiss. Glenn approaches them and insults Jeff and Neil. Jonah asks Amy about their situation to which Amy suggests a fresh start. They smile at each other in agreement but as Amy turns away, Jonah kisses her passionately. As the Cloud 9 cameras in store are turned off, the camera Garrett hid in the flower stand activates and broadcasts Amy and Jonah undressing and having sex to the Cloud 9 global stores. (♫ The Revivalists - Stand Up ♫) Staff and customers at the stores stare in amazement while some film it. Garrett notices the broadcast in the store and tells everyone.
Cast
Main cast
Featured cast
See also
Also see Season Three minor employees.
Running Gags
References
Trivia
Quotes
"I'm not the one who farted."— Neil
"You know what the second worst part is? Huh? That I was stupid enough to think something might actually work out in this store."— Amy
Gallery
Video
v

•

e
Superstore Season Three Episodes
  
"Part-Time Hires"
October 12, 2017
Directed by: Todd Biermann - Written by: Josh Malmuth

Emma gets a job at the store and Amy asks Jonah for parenting advise. Garrett and Dina argue over who broke up with whom, a cute construction worker flirts with Mateo, Cheyenne and Carol for store perks; Kelly has a rough first day. (Viewers: 4.33 million)
  
"Workplace Bullying"
October 19, 2017
Directed by: Tristram Shapeero - Written by: Bridget Kyle and Vicky Luu

After an attempted robbery, tensions arise between Dina and Jonah. Glenn has a tough time firing a store security guard and Amy discovers her coworkers have been hanging out without her. (Viewers: 4.20 million)
  
"Sal's Dead"
October 26, 2017
Directed by: Geeta V. Patel - Written by: Gabe Miller

A dead body is discovered in the store on Halloween, throwing Glenn and Dina into a panic and confusing the shoppers. Amy and Garrett get into big trouble using a dating app on Jonah's phone, Mateo is transformed in more ways than one by Cheyenne. (Viewers: 4.61 million)
  
"Health Fund"
November 2, 2017
Directed by: Victor Nelli, Jr - Written by: Jackie Clarke

As Mateo turns to stranger and stranger home remedies for an ear infection, Amy and Jonah decide to offer an alternative to Cloud 9's terrible health insurance plan. Glenn enlists Dina to help him get medical attention for his own embarrassing condition. (Viewers: 3.54 million)
  
"Christmas Eve"
December 5, 2017
Directed by: Todd Biermann - Written by: Eric Ledgin

Trying to prove how wild she can be, Amy turns a boring Christmas Eve at the store into a holiday adventure. Jonah and Garrett's roommate issues boil over and Glenn tries to prove to Mateo that Christmas is more than just fine. (Viewers: 4.41 million)
  
"Viral Video"
January 4, 2018
Directed by: Ken Whittingham - Written by: Jonathan Green

After an employee posts a controversial video online, Dina enlists Cheyenne to help police the rest of the staff's social media accounts. Amy learns something about Jonah that drives her to desperately pursue Instagram views, and Glenn suspects Mateo of rewards card fraud. (Viewers: 3.90 million)
  
"Golden Globes Party"
January 11, 2018
Directed by: Victor Nelli, Jr - Written by: Vanessa Ramos

When Amy throws a party to prove how great she's doing post-divorce, she's forced to enlist Dina and Jonah's help, and Dina ends up making the ultimate sacrifice. Glenn and his wife Jerusha are forced to conduct some personal business at Amy's home. (Viewers: 3.85 million)
  
"High Volume Store"
January 18, 2018
Directed by: Jay Hunter - Written by: Owen Ellickson

When Jeff announces that the store could be getting an upgrade, Amy, Jonah and Dina set out to discover the pros and cons. Cheyenne accidentally volunteers to be a surrogate mother for Glenn's baby and tries to get out of it. (Viewers: 3.71 million)
  
"Angels and Mermaids"
January 25, 2018
Directed by: Michael Spiller - Written by: Justin Shanes

Amy finds herself caught in the middle of a conflict between Cheyenne and her ex-convict mom, Brandi. A personal agreement between Glenn and Dina gets heated when Glenn brings in a lawyer. When Jonah finds out that Kelly believes in angels, Garrett's perfect weekend plans of having the apartment to himself are threatened. (Viewers: 4.22 million)
  
"Groundhog Day"
February 1, 2018
Directed by: Jaffar Mahmood - Written by: Sierra Teller Ornelas

Still fresh from her divorce, Amy doesn't feel ready to start dating again. But when Mateo tries to set her up with his loser cousin, she gets determined to show everyone she can do better and breaks some hearts in the process. Dina takes advantage of her pregnancy to scam Glenn into accommodating her every whim. (Viewers: 3.46 million)
  
"Video Game Release"
March 1, 2018
Directed by: America Ferrera - Written by: Jackie Clarke

When gamers invade the store for the release of a hot new video game, Jonah tries to help Amy secure herself a copy of the game, which takes them on an unexpected adventure. Mateo helps Garrett make a good impression on one of his heroes. Glenn and Sandra try to stand up for themselves with customers and end up instigating a breastfeeding "nurse-in." (Viewers: 3.38 million)
  
"Safety Training"
March 8, 2018
Directed by: Rebecca Asher - Written by: Bridget Kyle and Vicky Luu

When Mateo gets injured, Jonah tries to help him avoid Cloud 9 compensation for fear of his immigration status being revealed. Meanwhile, Amy attempts to convince everyone that she likes Kelly. (Viewers: 3.37 million)
  
"Amnesty"
March 15, 2018
Directed by: Keith Powell - Written by: Eric Ledgin

Glenn and Dina offer amnesty to all the employees for any bad things they confess so Garrett and Cheyenne try to decide how to take advantage of it. Meanwhile, Jonah and Amy try to defuse an awkward situation that has the whole store gossiping. (Viewers: 3.93 million)
  
"Target"
March 22, 2018
Directed by: Daniella Eisman - Written by: Jonathan Green and Gabe Miller

When Jeff leaves Cloud 9 to work at Target, Garrett leads Glenn to believe that he's poaching other employees to go with him. In return Glenn tries to poach employees from Target. Amy goes on a double date with Dina and, Kelly and Jonah discuss moving in together. (Viewers: 3.85 million)
  
"District Manager"
March 29, 2018
Directed by: Alex Reid - Written by: John Kazlauskas

Laurie, the new district manager, visits the store and decides to make some cuts to save money by firing Myrtle. Amy and Jonah plead with her to not fire anyone and search for other ways to make up the money. Mateo struggles to prove his skills on the cash register. (Viewers: 2.94 million)
  
"Local Vendors Day"
April 5, 2018
Directed by: Geeta V. Patel - Written by: Josh Malmuth

When local small businesses set up shop inside Cloud 9, Glenn tries to help his wife Jerusha sell her handmade needlepoint, despite Jonah's concerns that he's pressuring his employees. Meanwhile, Amy doesn't feel Latina enough when a guy flirts with her in Spanish, and Garrett tries to uncover the truth behind a beer vendor's product. (Viewers: 3.17 million)
  
"Lottery"
April 12, 2018
Directed by: Ben Feldman - Written by: Vanessa Ramos

As lottery mania sweeps the store, Dina incentivizes the employees to sell as many tickets as possible. Jonah helps Amy track down the new district manager to lobby for a raise. (Viewers: 3.08 million)
  
"Gender Reveal"
April 19, 2018
Directed by: Tristram Shapeero - Written by: Lauren Ash

The store hosts a gender reveal party for Glenn and his wife Jerusha, just as Dina is freaking out at the realities of having to deliver a baby. Amy receives some unsettling news. (Viewers: 2.76 million)
  
"Aftermath"
April 26, 2018
Directed by: Ryan Case - Written by: Justin Shanes and Owen Ellickson

Amy and Jonah deal with the consequences of their kiss. Glenn and Dina enlist Garrett's help to win the store a visit from Cloud 9's CEO. (Viewers: 2.85 million)
  
"Town Hall"
May 3, 2018
Directed by: Matt Sohn - Written by: Justin Spitzer

As the store prepares to host a company-wide Town Hall meeting, Amy and Jonah are forced to put their conflicts aside and rally their co-workers to confront the CEO. Glenn struggles with the pressure of speaking to a global audience. (Viewers: 2.97 million)