COUGH, COUGH!

Travis was a sales associate at Cloud 9 Store #1217 in St. Louis, Missouri. He doesn't speak but is seen in numerous scenes. His name is changed to Tim in "Ladies' Lunch". He is portrayed by actor Andy Lobo.
Character History
Travis first appears in the Break Room during Glenn's speech on Cloud 9's magazine "Stratus" and the pending arrival of reporter Cynthia to do an article on the store. ("Magazine Profile") As the employees watch the surveillance tape of the "secret shopper" in the Break Room, Travis is there. ("Secret Shopper") He is a member of "Team Gold" during the sales competition with "Team Red" and ignores Sandra in the Break Room. ("Color Wars") He is working at Coffee & Bakery when Amy and Dina go after Bo. ("Wedding Day Sale")
Travis is one of the employees locked in the store all night. He is seen participating in the toy dog fight and watching Cheyenne dance. ("All-Nighter") He is at the meeting where Dina announces she is stepping down as assistant manager and his photo is one of those on Glenn's desk as Amy evaluates who would be the best assistant manager. He also gets Glenn to sign some papers when Glenn is on the phone at customer service. ("Demotion") Travis is in the Break Room after Cheyenne's false labor when she is breathing heavily because her in utero baby is pressing against her lungs. He is in the group of employees who listens to Steve's (from corporate) seminar on why unions are bad and is fanning Cheyenne when she gives birth. He is among those who walk out to get Glenn his job back. ("Labor")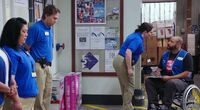 Travis in the "Olympics Opening Ceremony" procession carrying a Kuerig. He is one of the employees that witnesses the fire caused by Myrtle (he's looking at his phone). He is in the Break Room listening to Glenn and Dina argue about who will plan the closing ceremony. Later, he is in Dina's line up as she looks to recruit performers for the closing ceremonies. Travis witnesses the awesome closing ceremony. ("Olympics")
Travis is part of the strike in order to get Glenn his job back. When the employees go back into the store to stop customers from buying items, Travis is seen chasing customers and coughing loudly on them as if he has a cold. He doesn't cross the picket line when many other employees do. ("Strike") Travis is present in the Break Room when Dina reads the apology speech that Jonah wrote for her. ("Back to Work") Travis is in the Break Room after the NRA protesters enter the store and Glenn says everyone is going to die. ("Guns, Pills, and Birds")
Travis is in the Break Room as Glenn announces that due to computer malfunctions, the store can only accept cash that day. His name is now Tim. He plays in the "taped muffin" game Garrett and Jonah make up and can be seen throwing the muffin. Later, he walks past Myrtle as she eats a hot dog. ("Ladies' Lunch") Tim is in the Break Room for the sexual harassment training as a result of Glenn and Amy's meddling in Myrtle's love life. He listens to Glenn's story of how he asked his eventual wife Jerusha out every day for a year before she said yes to avoid getting fired from Glenn's father's store. ("Valentine's Day")
In February 2016, when the store's temperature control malfunctions making it very hot, Tim is part of the crew unloading boxes in the Warehouse when Marcus and the warehouse crew walk out. ("Super Hot Store") During the store's "Wellness Fair", Tim is one of the employees seen smoking outside. He is in the Break Room as Amy reveals to everyone that Sandra isn't dating Jeff Sutin and Cheyenne says Sandra is pregnant (which she isn't). Later, he is in the Break Room after Glenn's low blood sugar attack, when Glenn accuses Jeff of abandoning Sandra, Jeff tells everyone he is gay and Dina reveals she's having sex with Garrett. ("Wellness Fair")
Tim is at the team meeting where Dina talks about the bug problem in the Break Room and Glenn announces balloting for the company Integrity Award. After Garrett rescues a dog, he asks Tim to get a dog bath and bring it to the men's room. ("Integrity Award") He is in the Break Room watching the video Mateo has put together for the staff before his transfer to another store. ("Mateo's Last Day") When Glenn brings his kids to work, Tim is pulling a pallet while Bobbie Sue skips behind him. ("Glenn's Kids")
Tim is at Bo and Cheyenne's wedding and is seen at the ceremony (he's sitting behind Garrett) and at the reception. ("Cheyenne's Wedding") He attends the staff meeting when Glenn talks about the raccoon but everyone wants to know who is going to be laid off and is seen working the lunch counter. He isn't laid off and survives the tornado. He's seen in the background as Glenn discovers his car is destroyed. ("Tornado")
As Jonah and Mateo organize an activist group opposing Rodrigo Duterte and handout flyers at the store, Tim is behind them operating a checkout. ("Cloud 9 Academy")
Trivia
He also appeared in over 65 episodes of the NBC series "Community" in a number of memorable scenes as an unnamed extra. He also acted as the stand-in for Star-Burns, Professor Ian Duncan and Abed.