"Wedding Day Sale" is the eighth episode of Season One of Superstore, and the eighth episode of the show overall.
Summary
Amy tries to talk Cheyenne and Bo out of making lavish wedding purchases, Glenn shows support for gay marriage.
Plot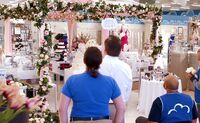 At the store front, Mateo is finishing a bridal archway showcasing the store's wedding day sale. Jonah, Amy, Glenn, Dina and Garrett admire the display while brides press up against the front door. Dina opens the door and chaos ensues as the brides tear the display apart. (♫ Joan Jett – Bad Reputation ♫) Garrett comments that the five hours spent creating the display was a waste. Cheyenne and Bo are shopping at the store for their wedding. They run into Amy and Bo asks where some expensive items are which he intends to buy and destroy at their wedding. Amy asks if they are going to save any money for their baby which brings confused looks from the two. Bo shows Amy $5000 he received as a settlement for being hit by a car.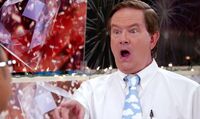 Amy complains to Jonah and Garrett about Bo and Cheyenne. Garrett isn't surprised and Jonah says people don't like being told how to spend their money. A woman in a wedding dress has an ankle monitor. (♫ John Sbarra Orchestra - Playgirls ♫) Two gay men, Andy and Russell, approach Glenn but he doesn't realize they are getting married to each other until Mateo explains it. Glenn then realizes Mateo is also gay and is supportive. As Bo is playing a video game, Amy again brings up saving money to Cheyenne. She then has Bo "shoot" essential baby items with a pricing gun so they can see how much it costs. As Amy continues to talk about the life change a baby brings, the weight of the responsibility hits Bo. He panics and runs out of the store. Cheyenne tries calling Bo and when she can't reach him, she starts crying.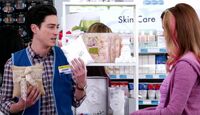 Since Bo ran off with the pricing gun, Dina intends to hunt him down and has a taser. Amy goes along to ensure Dina doesn't get out of hand. In Dina's truck, Amy finds Dina has open bean cans and no radio. Dina offers to sing a song to pass the time but she doesn't know any songs Amy names. (♫ Lauren Ash – Danny Boy ♫) To take Cheyenne's mind off Bo, Jonah and Garrett help her shop for wedding items but become competitive over the item selection. Garrett likes traditional items while Jonah likes the opposite. Chris sees twin girls who disappear. (♫ David Benoit - Jesu ♫) Glenn feels bad he didn't handle the gay customers smoother and asks Mateo to help him put together a section for gay weddings.
Amy and Dina spot Bo riding his bike. Amy calls out to him but he pedals faster. (♫ Chamillionaire – Ridin' ♫) Dina then spots a homeless man who she believes has stolen a shopping cart from the store. She makes a u-turn to get the cart and Bo gets away. The shopping cart in the back, Amy is frustrated with Dina. Dina didn't want to catch Bo because she's not anxious to get back to the wedding day sale as it reminds her she's not with anyone. They swap stories about losers they've dated and Dina confides she's having heavy flirtation with someone at the store. The gay wedding section finished, Glenn wants to make sure it meets with Mateo's approval. Mateo is surprised how tolerant Glenn is since he's Christian. Glenn relates that Jesus went out of this way to be accepting of all but when Mateo suggests Jesus may have been gay, Glenn is uncomfortable.
Amy and Dina are eating lunch on the tailgate of Dina's truck and talking about Bo. Amy knows what Bo and Cheyenne are in for having been married and had a child in her teens as well. Dina still doesn't want to go back to the store so as Amy looks at a beauty salon, she suggests they pamper themselves. Dina has other ideas and they go to the Firing-Line. At the store, Jonah and Garrett continue to argue about items for Cheyenne's wedding while she cares more that Bo is there. At the Firing-Line, Dina starts to review gun basics and is surprised when Amy loads, cocks and hits her target's bulls eye with a tight grouping. She explains her favorite uncle was a cop and bought her a pistol for her quinceañera. Amy looks into the gun store and finds Bo there handing out his résumé. He didn't abandon Cheyenne, he's trying to get a job.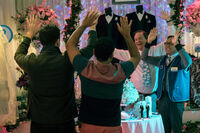 Jonah and Garrett argue over a green or white wedding dress. Glenn and Mateo invite Andy and Russell to the gay wedding display. Glenn has prepared extras that Mateo doesn't know about such a lighting and confetti. The couple appreciate Glenn's effort even though he is over-compensating. Amy and Dina return Bo back to the store to find Cheyenne in a beautiful wedding dress. They make up while Amy and Dina wonder how long their marriage will last. Dina warns Amy to not speak of the work flirtation she confided. Amy assures her it will stay between friends. Dina then makes a lewd gesture behind Jonah's back which surprises Amy.
Cast
Main cast
Featured cast
See also
Also see Season One minor employees.
Running Gags
References
As Bo prices baby items with a price gun, he thinks the gun's read-out of $2500 is 2500 points and that gets him a Charleston Chew.
Garrett tries to comfort Cheyenne by saying "Guuurl" which he says he learned from Wendy Williams.
As Amy rides in Dina's truck (that has no radio) Dina says to name any song and she'll sing it. Amy names the following songs, none of which Dina knows:
Amy mentions she dated a guy who would only speak in Monty Python quotes.
Glenn and Mateo have a discussion about Jesus accepting everyone until Mateo pushes it too far (for Glenn) by suggesting Jesus may have been gay.
When at the Firing-Line gun range, Dina mentions that her gun club has celebrity nights where her target was a picture of Kristen Stewart and that a future night will be pictures of the cast of Scandal.
Bo's resumé has left-overs from the template that says he went to Harvard Medical School, that he was Chief of Cardiology at John Hopkins and was the managing editor at Vogue.
As Garrett makes fun of what he thinks Jonah would like in his wedding, he mentions The Velveteen Rabbit. Jonah counters by implying Garrett is gay and would like his husband to drive a beige Toyota Camry.
As Glenn surprises Andy and Russell with the gay wedding display, he also mentions Vogue and says he Googled "world's gayest parties".
Cheyenne says her wedding dress is from the Farrah Abraham collection.
Trivia
Quotes
"We're going to take those guys minds and blow them."— Glenn
Gallery
v

•

e
Superstore Season One Episodes
  
"Shoplifter"
January 11, 2016
Directed by: Ruben Fleischer - Written by: Jackie Clarke

Dina tracks a shoplifter, Amy brings her daughter Emma to work even though it isn't allowed so Jonah helps out. (Viewers: 5.38 million)
  
"Secret Shopper"
January 18, 2016
Directed by: Alex Hardcastle - Written by: Lon Zimmet

Amy feels competitive when Glenn publicly congratulates Jonah on his superb employee test results. Cloud 9 employees are on their best behavior in anticipation of a secret shopper. (Viewers: 5.66 million)
  
"Color Wars"
January 25, 2016
Directed by: Andy Ackerman - Written by: Jack Kukoda

The store is divided into two sales teams competing for $100 each, Jonah meets Amy's husband Adam. (Viewers: 4.93 million)
  
"Wedding Day Sale"
February 1, 2016
Directed by: Victor Nelli, Jr. - Written by: Sierra Teller Ornelas

Amy tries to talk Cheyenne and Bo out of expensive wedding purchases, Glenn tries to be tolerant towards a gay couple. (Viewers: 4.89 million)
  
"All-Nighter"
February 8, 2016
Directed by: Christine Gernon - Written by: Eric Ledgin

After working overtime to put up new signs, the staff are locked in the store. They find unique ways to amuse themselves and bond in the process. (Viewers: 5.19 million)
  
"Demotion"
February 15, 2016
Directed by: Linda Mendoza - Written by: Matt Hubbard and Lon Zimmet

Dina asks for a demotion in order to date Jonah, Amy and Glenn deal with finding a replacement. (Viewers: 3.09 million)
  
"Labor"
February 22, 2016
Directed by: Beth McCarthy-Miller - Written by: Owen Ellickson

Cheyenne is having her baby in the store but won't stop working because Cloud 9 doesn't offer paid maternity leave. To help her Jonah proposes a walkout. (Viewers: 4.68 million)