Well, that's not how it seemed yesterday. You were totally hitting on me.

William is a handsome, married shopper at the Ozarks Highlands Store. He is portrayed by actor Tom Parker.
Character History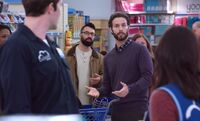 After Amy finds out that Cheyenne and Mateo think her attractiveness rating is low, Amy helps William try on a blazer. She asks if he would go out with someone like her and he points out he's married. She says the question is theoretical and asks him to re-consider if his wife was dead, never existed or was abducted. She also asks what he thinks her rating is, suggesting "8" at a minimum. William is creeped out and leaves. The next day after Amy sleeps with Tate, Marcus and Tate confront her and she denies wanting to date anyone. William is at the store and points out Amy was hitting on him the day before which draws groans of disbelief from Marcus and Tate. ("Groundhog Day")
Community content is available under
CC-BY-SA
unless otherwise noted.