"Workplace Bullying" is the fourth episode of Season Three of Superstore, and the thirty-seventh episode of the show overall.
Summary
After an attempted robbery, tensions arise between Dina and Jonah. Glenn has a tough time firing a store security guard and Amy discovers her coworkers have been hanging out without her.
Plot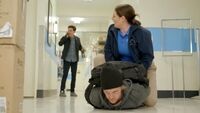 Entering the store in the morning, Jonah walks through the employee-only area and finds the door to the Cash Room open and sees a man robbing the safe. The robber isn't hostile and won't put the money back even after Jonah implores him too. He walks past Jonah with a backpack full of money and passes Dina in the hallway. Jonah yells that the man's a robber so Dina chases after and tackles the robber while making a crime-show zinger. She orders Jonah to call the police and chastises the robber while sitting on top of him. A police officer interviews Jonah and Dina and establishes that Jonah made no attempt to stop the robber which disgusts Dina.
In the Break Room, the staff are concerned for their safety so Amy hands out kazoos to act as rape whistles. She also has a draw for "parking lot buddies" for the staff to pair up when leaving the store at night. Mateo wants Cheyenne to be his partner and Amy is envious when she finds that many of the staff go to a trivia night after work. At customer service, Garrett complains to Glenn about store security guard Ken, who slept in and missed the robbery. Glenn hates confrontation and is reluctant to fire him. Myrtle finds her parking lot buddy is Jonah who she maligns to many staff in front of Jonah. Dina joins in and says Jonah won't do anything if Myrtle is attacked. They are interrupted by Jeff who is wearing riding boots and asks all staff to meet in the Break Room.
A customer takes a bite out of a scented candle. (♫ Britney Spears - ...Baby One More Time ♫) In the Break Room, Jeff addresses the robbery and after calling Dina to the front, he says "don't do what Dina did". Dina is angered and points out Jonah did nothing which Jeff praises and says is company policy. Dina challenges Jeff with a scenario where someone is stealing a baby. Marcus wonders what one should do if the baby was Hitler which starts a lot of discussion with many opinions offered including if the baby was the opposite of Hitler. In Glenn's Office, Glenn thinks that he's fired Ken but Ken thinks he's being asked to leave the office. Dina calls Jonah a baby in front of a customer and ridicules that he's Jeff's favorite. In the Break Room, Amy tries to impress Cheyenne, Mateo and Kelly with her trivia knowledge.
Glenn can't believe it when he sees Ken at the front door and tells him he doesn't want him to be a security guard anymore. Ken takes this to mean he'll be a sales associate instead. Jeff compliments Jonah and while Dina eavesdrops, Jonah asks Jeff not to compliment him in front of Dina. Jonah says Dina can be a bit of a bully which prompts Jeff to report her to HR. In the Break Room, Jeff gathers the staff for a talk on bullying and Ken is now in a sales associate vest. Jonah insists he wasn't bullied and Dina indicates that if she had bullied someone, they would have a broken nose like Justine. Jeff points out bullying can include name calling which results in examples being provided including those that Roger's doctors are calling him for being an albino. Sandra relates how her bus driver is bullying her. Gary blows his nose into a face cloth and then re-shelves it. (♫ Icona Pop – I Love It ♫)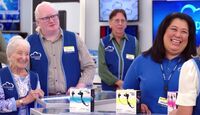 In the store, Garrett sarcastically tells Glenn he's good at firing employees as they watch Ken manhandle a customer. Amy approaches Sandra, Roger and others about an after-work activity and Myrtle suggests bowling. They respond with such great need and creepiness that Amy backs out and makes an excuse that she forgot that Emma has a "thing". Dina shows Jonah her written reprimand which he tries to apologize for. She smashes baby food jars on the floor and tells him to clean it up so, he retracts his apology and says she is a bully. Dina challenges Jonah to a fight while staff gather round and Marcus tries to get a chant of "fight!" going. As they leave store grounds, Garrett points out to Jonah that he's in a no-win situation. Jonah believes he just needs to stand up to Dina and once he does, she'll back down.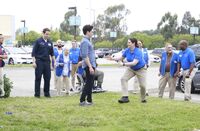 Outside, the staff gather and Dina circles around Jonah and says that if he is a feminist, he should punch her. Jonah refuses and when Garrett interrupts to film the up-coming battle, Dina blind-sides Jonah and tackles him to the ground. She tries to pin him but complains that his skin is so soft that he is slippery. As she yells at him to fight back she suddenly jumps up and points at his crotch. Jonah has an erection which he tries to hide. Marcus tries to start a "boner!" chant while the staff laugh or grimace in disgust. In the Break Room, Cheyenne and Mateo are getting ready to leave while Amy inquires about their plans. Kelly walks by and says she'll see them at trivia which provokes an outburst from Amy as to why she isn't invited. They explain she always said no in the past and invite her to meet them at 10:00pm. Amy realizes she's not used to staying up late and complains softly that she's so tired.
Dina stops Jonah in the store and says that she realizes the reason he's been giving her a "hard time" is that he is still attracted to her. She says she needs to be on her own for now (having just broken up with Garrett) but that they could have sex soon and compliments his manhood. Jonah is passive and can't get a word in to contradict her. At day end, Sandra is waiting outside to be parking lot buddies with Amy who tells her she's going to trivia with Mateo and Cheyenne. Sandra is disappointed and sees a hook-handed man in a raincoat waiting at the bus stop. She gets out her kazoo and walks hesitantly in the rain towards the man.
Cast
Main cast
Featured cast
See also
Also see Season Three minor employees.
Running Gags
References
Trivia
Quotes
"Yeah, we all know what the policy is, but what was I supposed to do? Just stand there and make brown, like Jonah?"— Dina
Gallery
Video
v

•

e
Superstore Season Three Episodes
  
"Part-Time Hires"
October 12, 2017
Directed by: Todd Biermann - Written by: Josh Malmuth

Emma gets a job at the store and Amy asks Jonah for parenting advise. Garrett and Dina argue over who broke up with whom, a cute construction worker flirts with Mateo, Cheyenne and Carol for store perks; Kelly has a rough first day. (Viewers: 4.33 million)
  
"Workplace Bullying"
October 19, 2017
Directed by: Tristram Shapeero - Written by: Bridget Kyle and Vicky Luu

After an attempted robbery, tensions arise between Dina and Jonah. Glenn has a tough time firing a store security guard and Amy discovers her coworkers have been hanging out without her. (Viewers: 4.20 million)
  
"Sal's Dead"
October 26, 2017
Directed by: Geeta V. Patel - Written by: Gabe Miller

A dead body is discovered in the store on Halloween, throwing Glenn and Dina into a panic and confusing the shoppers. Amy and Garrett get into big trouble using a dating app on Jonah's phone, Mateo is transformed in more ways than one by Cheyenne. (Viewers: 4.61 million)
  
"Health Fund"
November 2, 2017
Directed by: Victor Nelli, Jr - Written by: Jackie Clarke

As Mateo turns to stranger and stranger home remedies for an ear infection, Amy and Jonah decide to offer an alternative to Cloud 9's terrible health insurance plan. Glenn enlists Dina to help him get medical attention for his own embarrassing condition. (Viewers: 3.54 million)
  
"Christmas Eve"
December 5, 2017
Directed by: Todd Biermann - Written by: Eric Ledgin

Trying to prove how wild she can be, Amy turns a boring Christmas Eve at the store into a holiday adventure. Jonah and Garrett's roommate issues boil over and Glenn tries to prove to Mateo that Christmas is more than just fine. (Viewers: 4.41 million)
  
"Viral Video"
January 4, 2018
Directed by: Ken Whittingham - Written by: Jonathan Green

After an employee posts a controversial video online, Dina enlists Cheyenne to help police the rest of the staff's social media accounts. Amy learns something about Jonah that drives her to desperately pursue Instagram views, and Glenn suspects Mateo of rewards card fraud. (Viewers: 3.90 million)
  
"Golden Globes Party"
January 11, 2018
Directed by: Victor Nelli, Jr - Written by: Vanessa Ramos

When Amy throws a party to prove how great she's doing post-divorce, she's forced to enlist Dina and Jonah's help, and Dina ends up making the ultimate sacrifice. Glenn and his wife Jerusha are forced to conduct some personal business at Amy's home. (Viewers: 3.85 million)
  
"High Volume Store"
January 18, 2018
Directed by: Jay Hunter - Written by: Owen Ellickson

When Jeff announces that the store could be getting an upgrade, Amy, Jonah and Dina set out to discover the pros and cons. Cheyenne accidentally volunteers to be a surrogate mother for Glenn's baby and tries to get out of it. (Viewers: 3.71 million)
  
"Angels and Mermaids"
January 25, 2018
Directed by: Michael Spiller - Written by: Justin Shanes

Amy finds herself caught in the middle of a conflict between Cheyenne and her ex-convict mom, Brandi. A personal agreement between Glenn and Dina gets heated when Glenn brings in a lawyer. When Jonah finds out that Kelly believes in angels, Garrett's perfect weekend plans of having the apartment to himself are threatened. (Viewers: 4.22 million)
  
"Groundhog Day"
February 1, 2018
Directed by: Jaffar Mahmood - Written by: Sierra Teller Ornelas

Still fresh from her divorce, Amy doesn't feel ready to start dating again. But when Mateo tries to set her up with his loser cousin, she gets determined to show everyone she can do better and breaks some hearts in the process. Dina takes advantage of her pregnancy to scam Glenn into accommodating her every whim. (Viewers: 3.46 million)
  
"Video Game Release"
March 1, 2018
Directed by: America Ferrera - Written by: Jackie Clarke

When gamers invade the store for the release of a hot new video game, Jonah tries to help Amy secure herself a copy of the game, which takes them on an unexpected adventure. Mateo helps Garrett make a good impression on one of his heroes. Glenn and Sandra try to stand up for themselves with customers and end up instigating a breastfeeding "nurse-in." (Viewers: 3.38 million)
  
"Safety Training"
March 8, 2018
Directed by: Rebecca Asher - Written by: Bridget Kyle and Vicky Luu

When Mateo gets injured, Jonah tries to help him avoid Cloud 9 compensation for fear of his immigration status being revealed. Meanwhile, Amy attempts to convince everyone that she likes Kelly. (Viewers: 3.37 million)
  
"Amnesty"
March 15, 2018
Directed by: Keith Powell - Written by: Eric Ledgin

Glenn and Dina offer amnesty to all the employees for any bad things they confess so Garrett and Cheyenne try to decide how to take advantage of it. Meanwhile, Jonah and Amy try to defuse an awkward situation that has the whole store gossiping. (Viewers: 3.93 million)
  
"Target"
March 22, 2018
Directed by: Daniella Eisman - Written by: Jonathan Green and Gabe Miller

When Jeff leaves Cloud 9 to work at Target, Garrett leads Glenn to believe that he's poaching other employees to go with him. In return Glenn tries to poach employees from Target. Amy goes on a double date with Dina and, Kelly and Jonah discuss moving in together. (Viewers: 3.85 million)
  
"District Manager"
March 29, 2018
Directed by: Alex Reid - Written by: John Kazlauskas

Laurie, the new district manager, visits the store and decides to make some cuts to save money by firing Myrtle. Amy and Jonah plead with her to not fire anyone and search for other ways to make up the money. Mateo struggles to prove his skills on the cash register. (Viewers: 2.94 million)
  
"Local Vendors Day"
April 5, 2018
Directed by: Geeta V. Patel - Written by: Josh Malmuth

When local small businesses set up shop inside Cloud 9, Glenn tries to help his wife Jerusha sell her handmade needlepoint, despite Jonah's concerns that he's pressuring his employees. Meanwhile, Amy doesn't feel Latina enough when a guy flirts with her in Spanish, and Garrett tries to uncover the truth behind a beer vendor's product. (Viewers: 3.17 million)
  
"Lottery"
April 12, 2018
Directed by: Ben Feldman - Written by: Vanessa Ramos

As lottery mania sweeps the store, Dina incentivizes the employees to sell as many tickets as possible. Jonah helps Amy track down the new district manager to lobby for a raise. (Viewers: 3.08 million)
  
"Gender Reveal"
April 19, 2018
Directed by: Tristram Shapeero - Written by: Lauren Ash

The store hosts a gender reveal party for Glenn and his wife Jerusha, just as Dina is freaking out at the realities of having to deliver a baby. Amy receives some unsettling news. (Viewers: 2.76 million)
  
"Aftermath"
April 26, 2018
Directed by: Ryan Case - Written by: Justin Shanes and Owen Ellickson

Amy and Jonah deal with the consequences of their kiss. Glenn and Dina enlist Garrett's help to win the store a visit from Cloud 9's CEO. (Viewers: 2.85 million)
  
"Town Hall"
May 3, 2018
Directed by: Matt Sohn - Written by: Justin Spitzer

As the store prepares to host a company-wide Town Hall meeting, Amy and Jonah are forced to put their conflicts aside and rally their co-workers to confront the CEO. Glenn struggles with the pressure of speaking to a global audience. (Viewers: 2.97 million)
Community content is available under
CC-BY-SA
unless otherwise noted.